30 Things To Do At Glastonbury Festival. Every year Glastonbury sells out before any headliner is announced. It may seem strange to people who have never been to Glasto but the headliners are a small part of the festival.
Even if the tabloids and social media trolls obsess about who is playing, most Glastonbury veterans couldn't care less. With over 100 stages to choose from there is enough variety to please the most discerning music fan.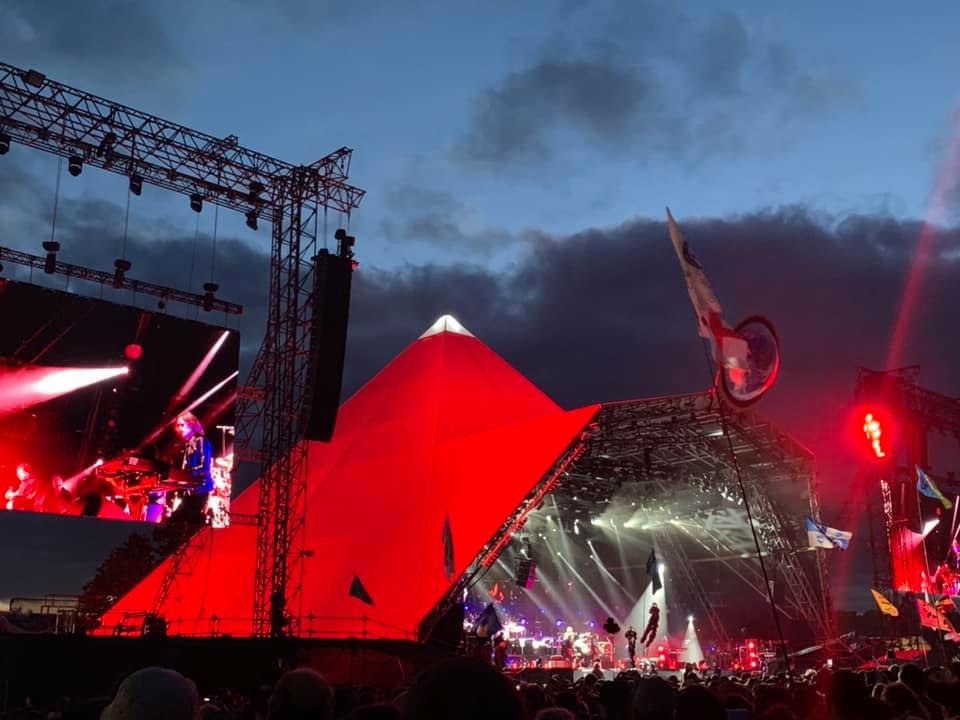 The reason why we buy tickets before headline announcements is because the festival itself is the draw. Something magic happens down at Worthy Farm. Watching the amazing people slowly build the site from nothing on the webcam gives you the first glimpse of that magic. From the bin painters to Emily and Michael Eavis, the festival is created by super talented people and love.
Below are 30 Things To Do At Glastonbury Festival to help you find the magic for yourselves.
Tune In To Worthy FM
Did you know that Glasto has its own radio station? Worthy FM starts transmitting on the Saturday before the gates open. So you can get into the Glastonbury mood before it even opens. They play past performances and give festival and traffic news up until midnight on the Monday.
Attend The Opening Ceremony
Head to The Healing Fields at 16:00 on the opening day to attend the opening ceremony. This is where the spirit of the original Glastonbury festival still burns.
Watch The Fireworks
On the opening night of the festival, they put on a firework display. Last year was the first time I actually got to see it after countless Glastonbury's! It was spectacular so I won't miss it this year. We watched it from above The Tipi Village. A lot of people also watch it from The Stone Circle and above The Park Area. There was a great vibe and it felt like the festival was coming together. However, the organisers say the best place to see the fireworks is at the heart of the festival like The Other Stage.
Don't Stick To The Plan, Go With The Flow
On my first Glastonbury, I tried to stick to my plan of seeing every act on my list. Once I realised how big Glastonbury Festival is (1,000 acres), that plan soon went out the window. Have a few main things you want to see and do and be free with the rest. You might discover something magical.
Power Ballad Yoga
Last year in The Greenpeace Field there was Power Ballad Yoga every morning from 10:00 (except on the opening day). If you want to start the day with some gentle stretches whilst singing along to Journey then this is for you.
Do A Glasto Pub Crawl
Glastonbury is not short of places to drink. There are some brilliant bars on site. Last year we tried to do a pub crawl. I think there were 10 bars on the list. We made it to two! We didn't mind though as we were having such a good time. Glasto is meant to be unplanned and unpredictable. We will give it another shot this year and see how far we get.
Wander Around The Green Fields
These are the areas that make Glastonbury so unique. Last year I took a mate (a glasto newbie) to the Greencrafts Village and he was blown away. His words were, now I get it. There is so much to do here. You can have a message in The Healing Field, learn about gardening in The Green Futures area or sit and chat with a Tribal leader in the Tipi Village.
Do A Tour Of The Site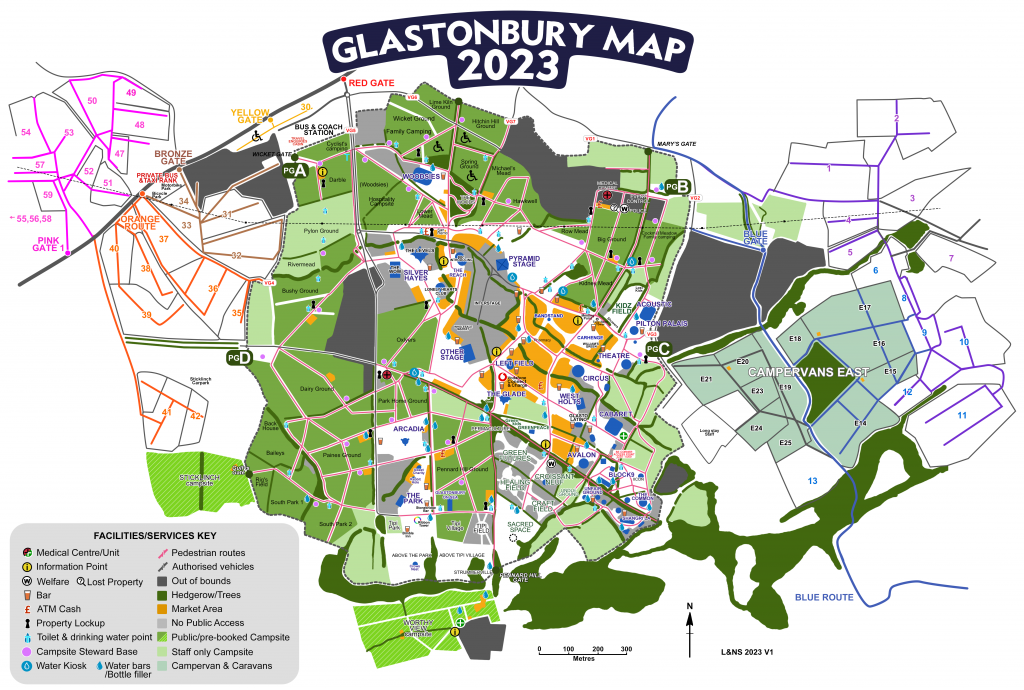 If you have Glasto Virgins with you, why not take them around the festival site on Thursday morning? You can connect it to the pub crawl to make it a bit more lively. Giving a tour is a great way for people to get the lie of the land and for you to check out all the new stuff. Watching newbie faces as you wander around is amazing. It takes you back to your first Glastonbury.
Watch Music On The Smaller Stages
We love watching acts on the smaller stages. We normally do this on the Thursday night. We have discovered some brilliant acts this way like Beans on Toast, The Undercover Hippy and Kae Tempest.
Try To Find The Underground Piano Bar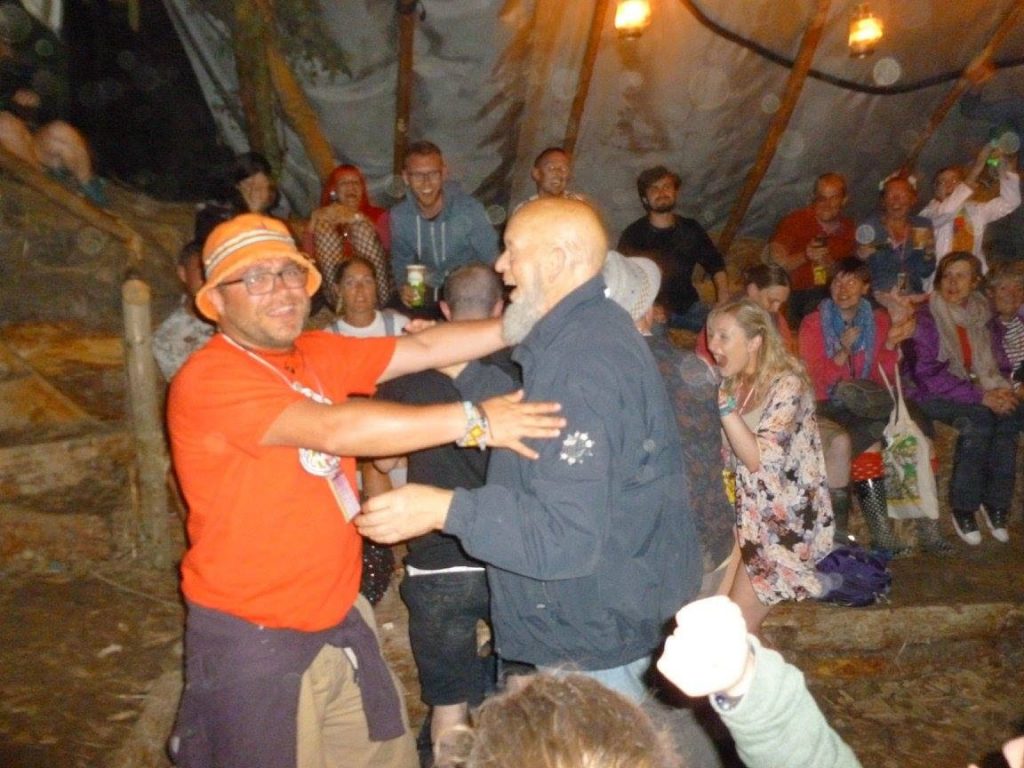 We have managed only once in 10 attempts. You can read about our experience here: The Underground Piano Bar, Glastonbury.
Watch Sunrise From The Stone Circle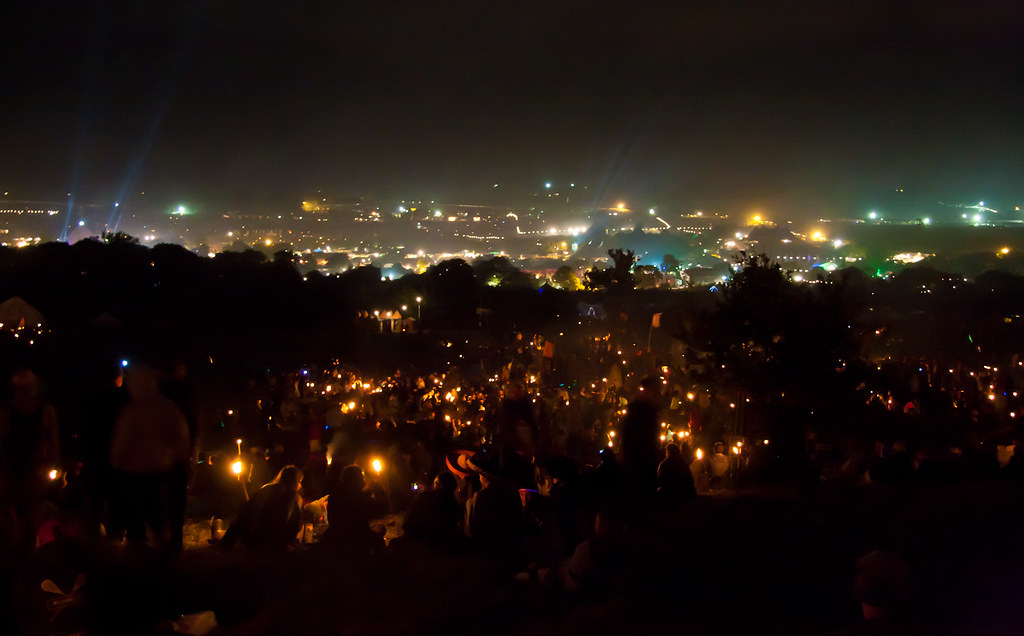 You can either wake up really early and head up to the stones or you can do what we did and stay up all night and head up there a few hours before to listen to the drummers play (amongst other things). It is a Glastonbury right of passage that you must do at least once.
Go Down The Rabbit Hole
Glastonbury is not short of secret places. The Rabbit Hole is another one. It is not as hidden as The Underground Piano Bar but you will need your wits about you to get in. Plus the answer to a riddle. There are two Rabbit Holes just to add to the confusion.
Listen To A Talk At The Free University Of Glastonbury
Head up to The Park Stage to listen to talks and debates at The Free University Of Glastonbury. Glasto is a place of learning as much as entertainment. So why not expand your mind in a field in Somerset?
Embrace The Long Drops
There is no way out of it. You will have to go to the loo at some point. Each year the toilet situation improves. Just go with the flow (not literally) and think that they are a small price to pay for the best 5 days of your life. Oh, and don't pee on the land! Glasto could lose its licence if the nearby river gets polluted.
Pick Up A Copy Of The Glasto Newspaper At The Glastonbury Free Press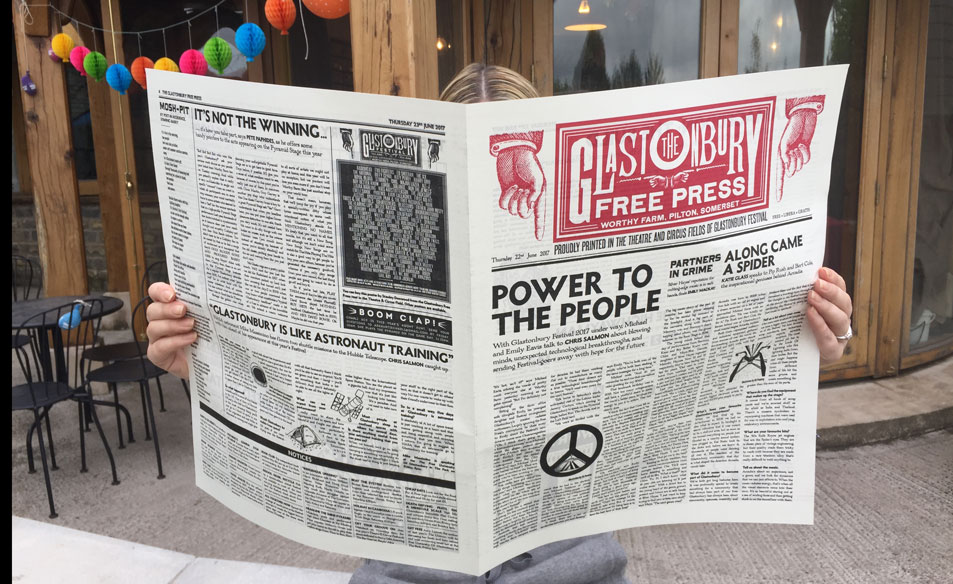 Not just happy with having its own radio station, Glastonbury also has its own newspaper. It is printed right on-site at the Glastonbury Free Press. The paper comes out on Thursday and Sunday and it is printed on a vintage Heidelberg printing press. You can also buy posters and tea towels here. If you see me here, please tell me not to buy another tea towel!
Get Political At The Left Field
Glastonbury and politics have always been connected. Head over to Left Field for lively debates every morning and afternoon from Friday until Sunday.
Chill Out In The Woods

The Woods is an area just behind The Woodsies Stage. It is a great place to chill or cool down if it is a hot one. There is a campfire, bar and walkway here and the area is nice and peaceful.
Leave The Kids In The Kidzfield
I don't have kids but my friends do and say The Kidzfield is basically Glastonbury for the little ones. Any child 12 and under can enter and it caters for all types of children. It looks amazing. I wish I came when I was a kid!
Find The Secret Gigs
Glastonbury always has secret sets by big artists. Radiohead, Pulp, The Killers and Lady Gaga have all turned up at Worthy Farm and played without being on the bill. Always check out the TBA slots on the lineup and follow Secret Glasto on Twitter. They always seem to know who the secret acts are. I have a feeling it is run by Michael Eavis!
Have A Mass Singalong In Front Of The Pyramid Stage
You have to have at least one mass singalong in front of the Pyramid Stage. Singing along with up to 150,000 people all around you is very special. No other festival comes close. You will be amazed at how many people know all the words of so many different artists. I have been lucky enough to sing along with Stevie Wonder, The Rolling Stones and Paul McCartney.
Go To The Best Gay Bar In Britain
Head to the NYC Downlow in Block 9 to enter the best gay bar in Britain. The fact that it is in a field on a farm in Somerset shouldn't surprise you. Be prepared to bump, grind and get sweaty.
Enter The Matrix In The Naughty Corner
The South East Corner of Glastonbury, aka, "The Naughty Corner" is the place to let go of reality. All 4 areas (The Common, Unfairground, Block 9 and Shangri La) have a different feel. Take your time to wander around them to discover hidden bars, gigs and "other" things.
Get Cheesy At Ultimate Power
If you love power ballads then you will love Ultimate Power. This is the ultimate cheese singalong. You won't be alone. There will be a few thousand singing along with you. I will be one of them.
Marvel At Arcadia
Head towards the giant spider spitting out fire to be in a state of awe. Arcadia never ceases to amaze me. How the hell do they build all this in just a few weeks? How does it all work? A true wonder!
Catch Some Cabaret, Comedy & Circus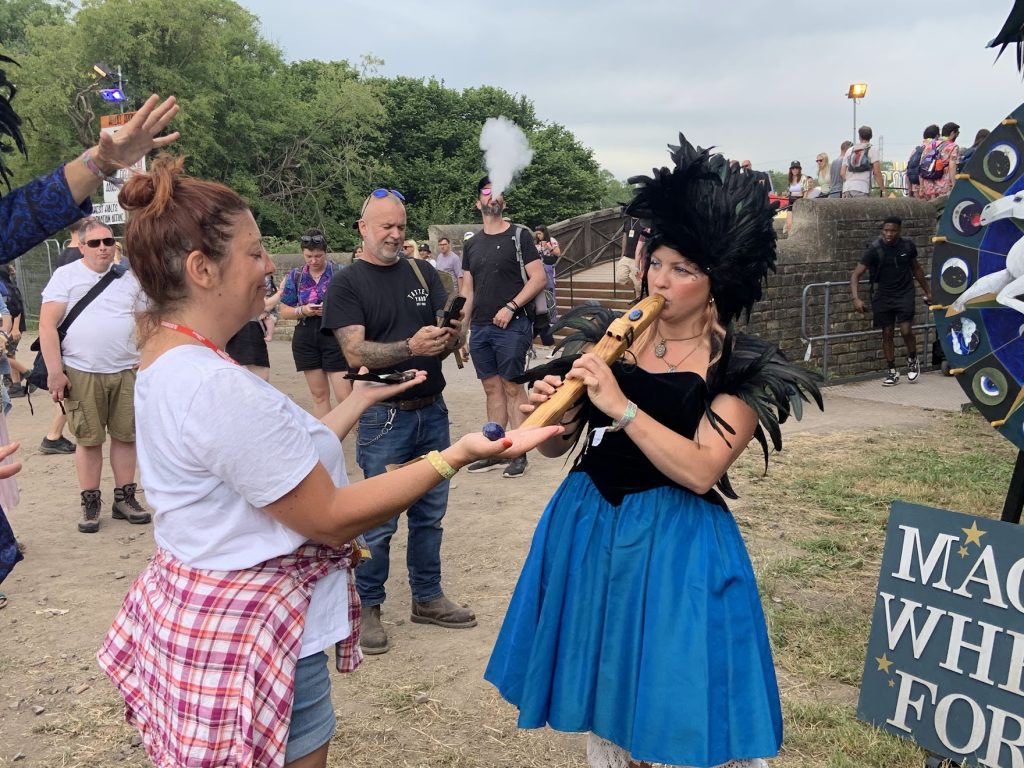 I told you that Glastonbury is not just about the music. Wander around the above areas to watch world-class performances from so many amazing performers. Just watch out for the seagulls. (You will know when you meet them).
Spend Some Time In The Field Of Avalon
I love the Avalon area. It has a chilled vibe that is needed during 5 days of madness. Have a pint or 3 in the Avalon Inn, one of the best bars at Glastonbury. Catch some bands on The Avalon Stage. Chill on the grass and catch up on sleep. (I am not saying I did this).
Eat, Eat, Eat!

The food at Glastonbury Festival is fantastic. So make sure you try a variety of dishes. You will need sustenance believe me. Many outlets have the Food For A Fiver scheme so look out for the signs on their menus.
Watch A Film In The Pilton Palais
The Pilton Palais tent has been going for 40 years. You can watch world premiers, q and a's with directors or have a sing-a-long (you WILL lose your voice at Glasto) in here. It is another great space to unwind.
Talk To Strangers
The glasto vibe. People talk about it in revered tones just like the lost ark. What makes this place so special? Us! All of us. From the organisers to us punters. Talk to people. For 5 days you can be whoever you want to be. You are now in a place with 200,000 new friends. Just don't try to buy them all a round!
Love The Farm, Leave No Trace
Take everything home with you! Worthy Farm is a working farm. Don't leave anything behind.
Do you have any other suggestions for things to do at Glasto? Let us know in the comments or on our social media channels.
See you on the farm!