The ultimate question I get asked is how do I get Glastonbury Tickets? On this page, we try to cover every bit of information on securing a Glastonbury Ticket.
Where do I buy Glastonbury Tickets?
First of all, there is only one place you can buy Glastonbury Tickets and that is with See Tickets. This is the official link: https://glastonbury.seetickets.com/content/extras
No other site or agency is allowed to sell Glastonbury tickets no matter how many claim to do so online. Each Glasto Ticket has the ticket holder's photo on it and is non-transferable. I don't know why other festivals and gigs don't do this. It eliminates the touts straight away.
Glastonbury Ticket Registration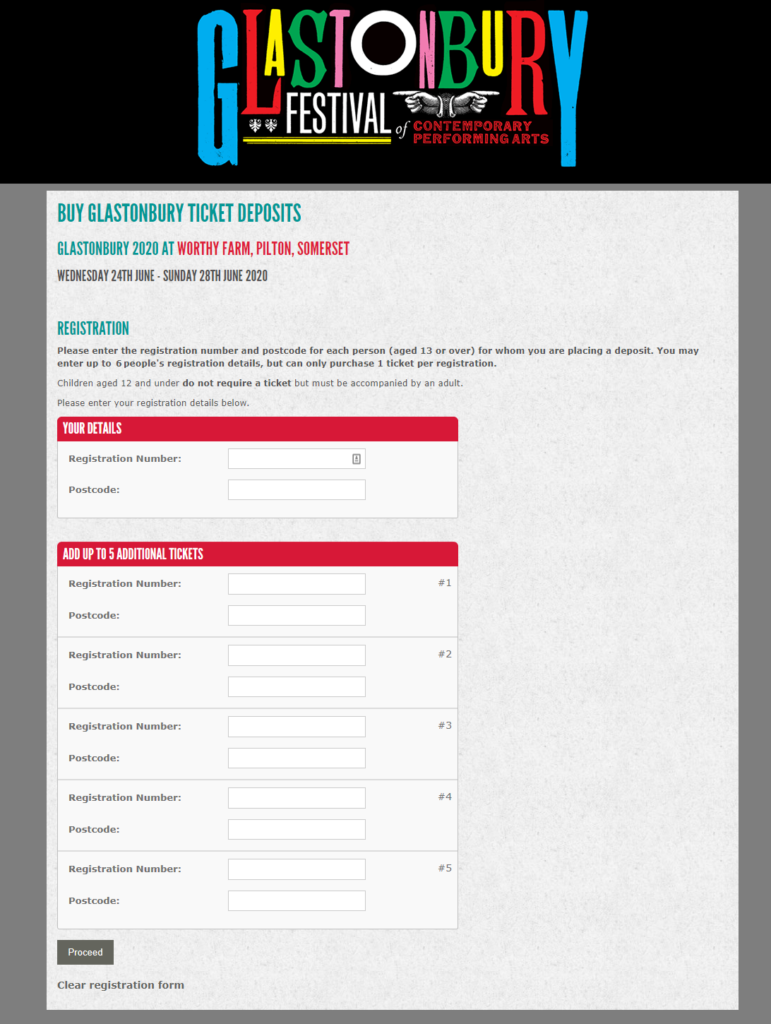 Everyone, aged 13 or over, who wishes to attend the Festival must be registered before they can pay a deposit. To find out more visit the official Glastonbury Site: https://www.glastonburyfestivals.co.uk/information/tickets/
How Much Do Glastonbury Tickets Cost?
Tickets for Glastonbury 2023 will cost £335 + £5 booking fee.
When Do Glastonbury Tickets Go On Sale?
For Glastonbury 2024 coach tickets go on sale on Thursday 2nd November 2023 and General Tickets go on sale on Sunday 5th November 2023.
If you have never tried to get Glastonbury Tickets, then read this post to see what it is like: Glastonbury Ticket Day
They sell out fast! See Tickets release Glasto tickets at 09:00 and they are normally gone by 09:30-09:45.
When Is The Glastonbury Ticket Resale?
Sometimes people who purchased tickets in October can't make the festival in June. Think births, weddings and holidays! These tickets are returned to Glastonbury and are put for resale. The Glastonbury Resale is normally in March or April.
How Hard Is It To Get A Glastonbury Ticket?
Bloody hard! It gets harder every year. In 2019 2.4 million people registered to get a ticket. Over 100,000 tickets went in 36 minutes. It is amazing that we have managed to go 10 times. Sometimes it just works for you. Once we managed to get to the ticket payment page 3 times and managed to buy 18 tickets! Then in 2019, we didn't get in at all but our friends managed to get us tickets in the resale.
Tips On Buying A Glastonbury Ticket
Make sure you are registered and all the other people in your group are registered too.
Create a spreadsheet of your group's registration numbers, postcodes, and names.
Copy and paste the above details.
Make sure you have your debit/credit card at hand.
Create a WhatsApp group for the 6 people you are buying for. Or 4 people if you are trying in the resale.
Use multiple devices. We have purchased tickets using mobiles, ipads and laptops.
Set an alarm for ticket purchase day.
The sale starts at 09:00, try to get on the See Ticket page before 09:00.
Use multiple browsers, not tabs.
Hit refresh on some devices but not all.
Keep all other websites closed apart from Twitter as it will be there Glastonbury and See Tickets announce when all tickets have gone.
Try to get as many friends as possible to try and get your tickets. Once they have paid, tell them to message you ASAP.
Leave the wifi off on your mobile. Many fans swear that they always get through on 3g and 4g.
Find the best internet. Many of our friends go to work to get their tickets as the wifi is fast.
Make sure you have enough funds in your account. When buying resale tickets you have to pay the balance in full for all 4 tickets in your pod. Make sure you have enough money for those golden tickets!
Triple-check everyone's details. I once gave the wrong registration number to my friends and almost lost the tickets.
Up until this point you've been in refresh mode, but once you get onto the booking page you have to be VERY careful what you do next. Sometimes the booking pages freeze or "hangs" and in this instance, Glastonbury has advised to "try pressing back once and then continue your booking from that point."
Don't give up. We have heard people securing tickets right at the last minute so keep on trying.
Glastonbury Ticket Buying Process
Below are screenshots of the Glastonbury Ticket Buying Process. I know how confusing it is to get a Glasto ticket. I hope this helps.
The Holding Page
This is where you will start off. Sometimes this doesn't load straight away.
The Registration Page
This is the page where you put in your details and your pod's details.
Registration Page Confirmation
This is the page that confirms you have put the correct details in.
Glastonbury Ticket Payment Page
This is the page where you enter your payment details.
Glastonbury Ticket Booking Complete Page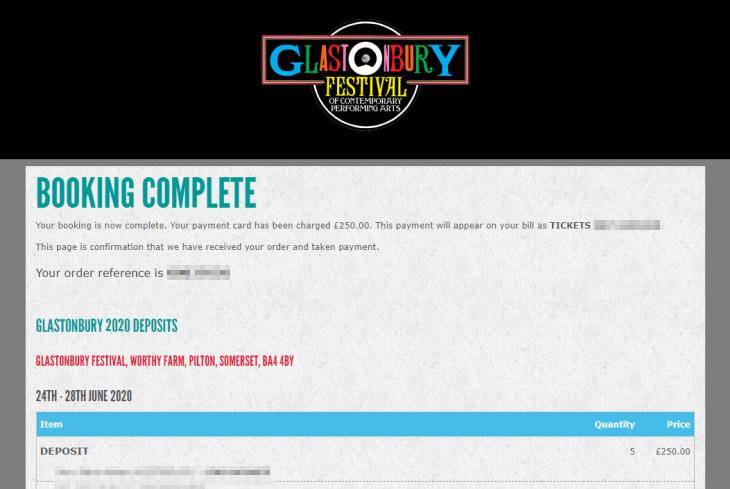 This is the dream page you will want to see on Glasto Ticket Day. If you get this popup, congratulations you are going to the best place on earth.
See you on the farm.