The question I get asked the most about Glastonbury is – "what should I take to Glastonbury Festival?" I have learnt the hard way. I was unprepared for my first Glastonbury. No wellies, no blow-up mattress and no waterproof jacket. I still loved it! Over the years I have added more essentials to make my Glasto easier and more comfortable. I hope this Glastonbury Packing List helps you have an amazing festival. See you on the farm!
Glastonbury Festival Essentials
This post contains affiliate links. If you purchase, I will earn a tiny commission, at no cost to you.
Your Glastonbury Ticket!!! Make sure you check that you have packed your ticket.
Your ID. They may ask you at the gate for your ID so bring it along.
Money and Bank Cards. More and more vendors are taking card and phone payments now at Glastonbury which is a great thing. No more queuing at the ATM machines. It is also safer as you won't be carrying loads of cash around with you.
Tent. I have had 3 types of tents at Glastonbury. A pop up one, a small 2 man one and finally a large tent with lots of space. There is no right or wrong in what type of tent you take to Glastonbury as long as it is good quality. However, if you want comfort then a large tent will be better. Our Glastonbury experience has become easier since we got a bigger tent.
Tents to take to Glastonbury:
Pop up tent: The Qeedo Quick Ash 2 has good reviews especially from people who have used it at festivals. The beauty of a pop-up tent is that you can be having your first cider in 5 minutes!
Mid-Range Tent: We used to have the Coleman Kobuk Valley Tent which saw us through many Glastonbury's. It's sturdy and can take all kinds of weather. It is not too heavy so you won't need a trolley to carry it.
Stand Up Tent: The benefits of having a larger tent is that you can really relax inside it if the weather turns for the worst. You can also stand up and get dressed which is a blessing if you need to pop to the long drops at 04:00! Outwell have stopped producing the tent we use but The Outwell Willwood is a close match. We go camping a lot so having a decent tent is a must.
There are camping stores on the site that sell tents and equipment just in case you have forgotten something but I recommend buying your tent before and trying it out. We once turned up to Glastonbury with our brand new tent not knowing how big it is. We just about fitted it into a space.
Getting to Glastonbury
Sat Nav or Google Maps if travelling by car
Bus or Train Tickets if travelling by public transport
Car Parking Sticker
Map of Car Parks & Map of Festival
Water and snacks
Hotel Booking Info & Address (If coming the night before)
Mobile Phone
Glastonbury Tips: Tune into Worthy FM (87.7) when you get close to the farm, it really gets you in the mood. Leave Clean Clothes and Trainers in the car for the drive home.
Getting into Glastonbury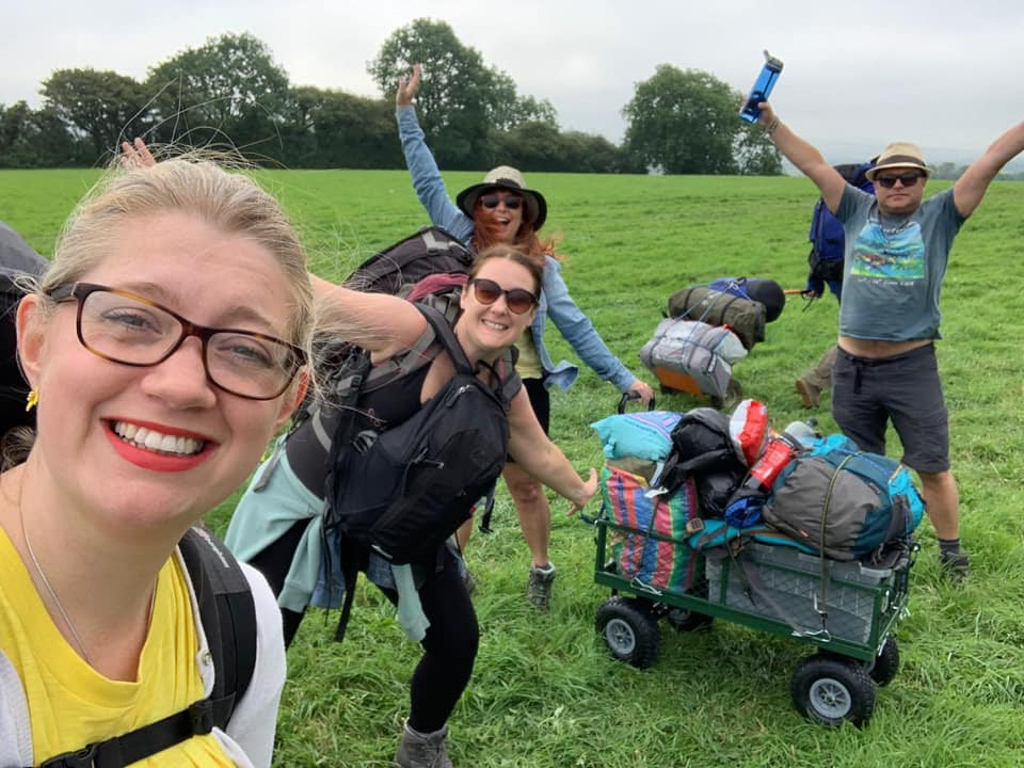 A large trolley. Buying a trolley made our Glastonbury Experience so much easier. Instead of carrying all our gear we now put most of it on a trolley and let that do the work. In the queue, I just roll it every few meters and once we are on-site the route to our campsite is mainly downhill. The only tricky bit is going uphill but I get people to give me a hand.
Make sure you get a heavy-duty trolley. We also have a lighter version and the wheels came off leaving Worthy Farm. Thankfully the police and guards at the gate helped us. The typical Glastonbury spirit. Our heavy-duty one has done countless Glastonbury's and other festivals with no problems.
Plastic Storage Boxes – We put most of our stuff in plastic storage boxes and load them on the trolley. That way the trolley is balanced out which makes it easier to cross the Worthy Farm terrain.
Bungee Cords to wrap around the trolley.
Spanners and pump just in case you have a problem with the trolley going in or out of the festival. As I mentioned before I have never had a problem with my heavy-duty trolley but I carry spanners and a pump with me just in case there is a problem. That way I won't have to walk all the way back to the car.
Inside Glastonbury
A good sleeping bag. We take two types with us. Karen has the warm one and I have the lighter one because I don't feel the cold. The Fit Nation Viking sleeping bag is the one we use.
Airbed/Mattress – We have used quite a few blow-up mattresses at Glastonbury. Many have been crap but the latest one we brought has been great. We got it in 2015 and it is still going strong. It is called the Intex Inflatable Bed. You can also buy airbeds on-site at the camping stores. We also take our light quilt and pillows. We wrap the quilt around our blow-up bed making it nice and snug.
Pump for Mattress. You don't want to be trying to blow up your mattress with your mouth after one too many ciders!
Lights for inside the tent. You only really need these if you have a big tent. A head torch will work fine if you have a smaller tent.
Fairy Lights. Okay, these are not essential. However, at Glasto 2019 we all camped together and pimped up our area. It became a nice chill out zone and was perfect for swapping our glastonbury stories.
Camping Chairs. Yes, a lot of people hate the chair w***ers but glasto is about love not hate. If it is a muddy and wet Glastonbury then chairs become essential. You can sit in the larger bars, sit at the back watching gigs and if your tent is big enough, sit in there too. We generally take ours out only in the day and leave them in the tents at night.
Fancy dress gear and flags. I plant my flag near where we camp. It helps me find my way home after a day and night partying.
A reusable water bottle, to fill up from the free taps on site.
Wellies and sturdy boots. I prefer to walk around in good walking boots but sometimes the Glastonbury mud wins out and my wellies show an apperance.
Day bag. I have been using the same one for years and it still has splotches of various glastonbury experiences. I use it to carry toilet roll, booze, head torch, water bottle, phone charger and power banks.
Eye mask and ear plugs. I sleep so well on Worthy Farm. Maybe it's all the walking and dancing. However, for some people, it might be a tad loud at night so earplugs are a must.
Toilet Rolls. Yes, you can get free loo roll from the various charities but take your own too. You never know when you will need it!
Summer and winter clothes. Don't take too much! I generally just change my t-shirts and keep the same bottoms on for the whole festival. I wear trekking trousers, they have loads of pockets and can detach to become shorts if it gets hot.
A hoody.
A waterproof jacket.
Underwear
Sunglasses
Pajamas
Small towel.
Toiletries: Deodorant, Eco Wet Wipes, Dry Shampoo, Sunscreen, Toothpaste. Some people que up for the showers. We embrace the traditions of old Glastonbury and become hippies for 5 days.
Nurofen, Coconut Water and Berrocca – You can thank me on the farm!
Bin bags for dirty clothes and rubbish. Love the farm. Leave no Trace.
Phone charger and power bank. The phone coverage gets better every year. I mainly use my phone to keep an eye on those secret glasto slots.
Glastonbury Tips: Mark valuables with house name and postcode so it can be posted back to you. On your mobile, change your screensaver to a friend's (someone who is with you) phone number. That way if someone finds your phone they can call your friend. This being Glastonbury people hand in found items all the time.
To help the madness along:
Booze. We take spirits with us to drink at night. In the day, I live on good old Somerset Cider that I buy from the onsite bars.
Snacks. There is amazing food at Glastonbury and you will be eating a lot. No matter how much we eat, we always get the munchies back in our tent so we have some snacks to keep us satisfied.
Heading Home:
Lots of patience!
Glastonbury Tips: If you are driving, leave some clean clothes in the car. That way you can drive home semi clean.