It was around 06:00 in the morning and I was sitting in front of The Other Stage. The litter pickers were out in force picking up the rubbish from last night's shenanigans. I only had two hours of sleep but I was buzzing.
The sun was already in the sky and there were a few people milling about. They were either up early like me or still out from the night before. The festival was still asleep. This was my first Glastonbury. As I sipped my much-needed coffee, one thought came to my head. I'm home.
I went to my first Glastonbury Festival on a whim. It was 2008 and I had just come out of a long-term relationship. I was in a low place. Friends of mine had booked tickets to go and kept urging me to join them.
I am a massive lover of music and always considered Glastonbury Festival the World Cup for music lovers. The only reason I had never gone to Glasto before was that I foolishly thought that I didn't like camping. (It turns out that I love camping). Anyhow, it was April of 2008 when I decided to book tickets.
Those were the days. No registration and fighting like mad to get tickets. It was official, I was going to my first Glastonbury at the ripe old age of 33.
I will never forget that first night. Like most glasto newbies I was totally unprepared. (Hence why I started this site!). We set up camp as soon as we entered the gate. I had a popup tent so was ready in minutes. As we walked towards the main areas, I thought that I must remember these walkway lights to find my way back home later. I had no idea how large Glastonbury was back then.
My first night at Glastonbury was decidedly memorable. By midnight I had lost most of my mates. Some for overdoing it on day one and others for more innocent reasons. Most of it is a blur, but I remember stumbling across a secret Fat Boy Slim set and dancing away until around 03:00.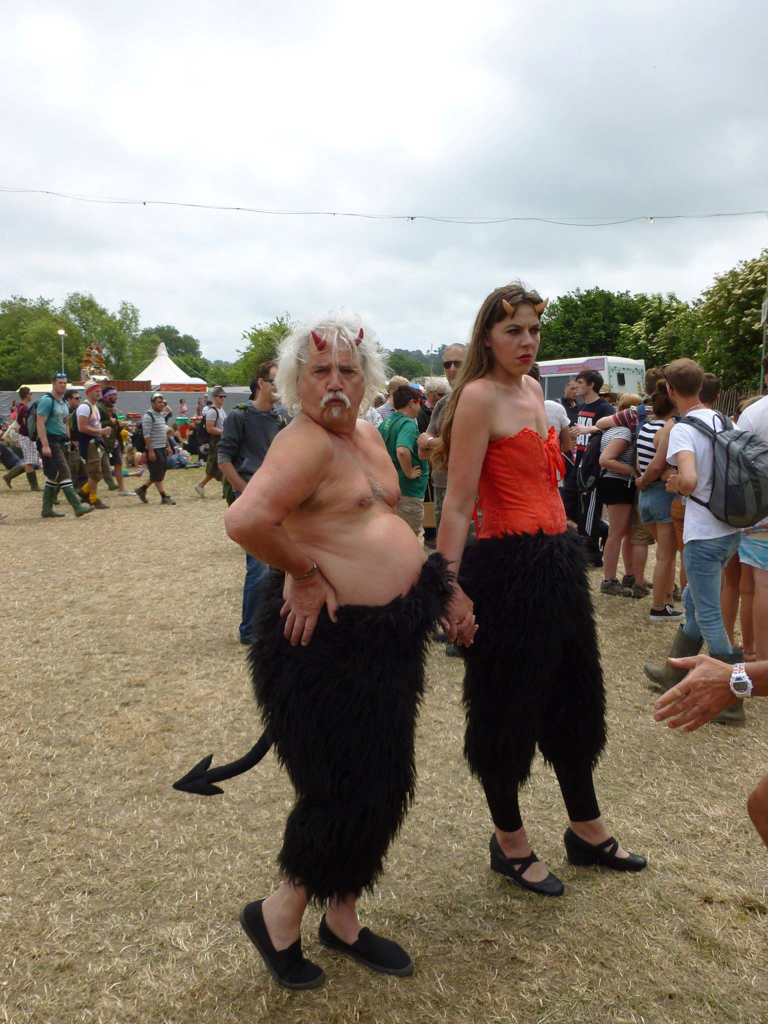 What stayed in my mind was the friendliness of everyone. I chatted with so many random strangers I lost count. At the Fat Boy Slim gig, I tripped up on a step on my way out and instantly people were there helping me, checking that I was okay. I had the same level of helpfulness on my way back to my tent.
Of course, I couldn't find my way back. Amazingly, the famous Glasto helpers were there to save the day. In my drunken state, I described roughly what gate I entered the site in. They worked out where I was camping and I was on my merry way. For an hour. That's right, an hour. I told you Glastonbury is big.
One of my friends is a fashion designer, so for Glastonbury, she made a flag with all our faces on it. You would think that would have been perfect for me to find where we all camped. Of course not. I got to my tent and found someone in it. In my drunken head, I thought oh well, this is Glastonbury. I will share it with him. As I was crawling in, I remembered the flag! I was going into the wrong tent! Luckily, I spotted the flag and my tent next to it. I crawled over and collapsed on my mat and lay there.
Even though I had walked around 30,000 steps I couldn't sleep. I was on such a natural high. I lay there for two hours and got up and decided to head out and explore.
What I discovered over those 5 days was my tribe. It felt amazing to be surrounded by 200,000 people who thought like me on so many issues. From the environment to human rights you are bound to find these issues and many more talked about at Worthy Farm. All with an amazing soundtrack playing on the 100 stages.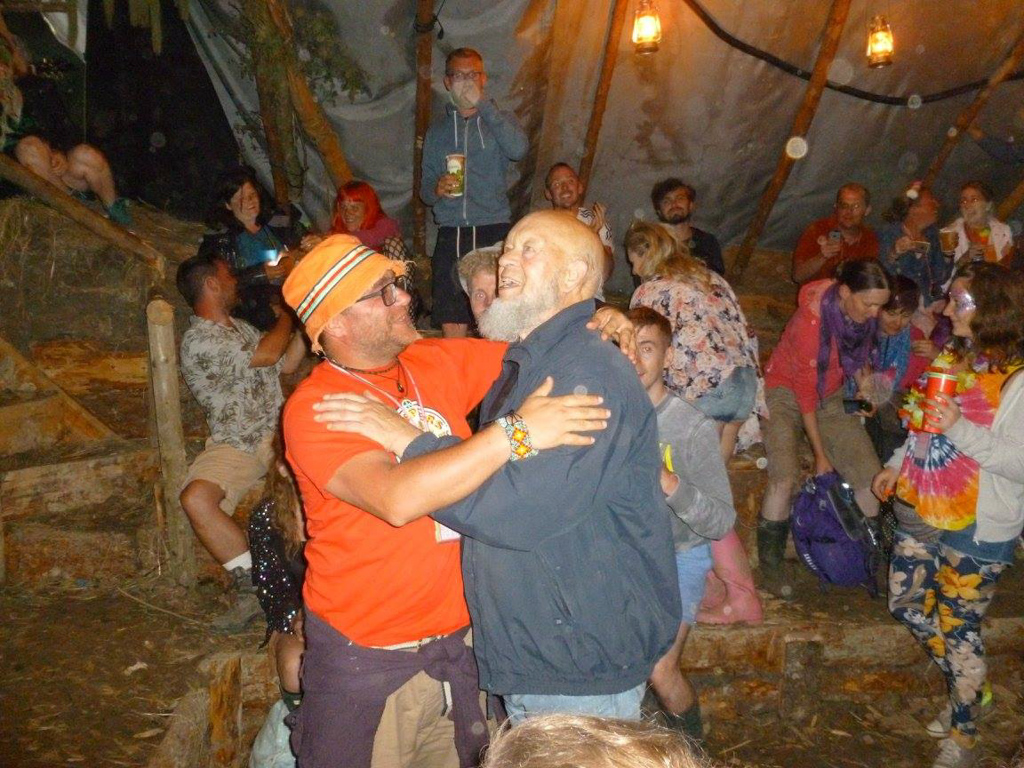 I have hardly mentioned the music. Seasonal Glastonbury goers know that it's not just the artists that make Glastonbury special. After all, there are many great festivals that have brilliant line-ups.
No, Glastonbury is special because it is created with love. From the wonderful Eavis family to the super-talented bin painters, everything created at the festival is created from the heart.
This love spreads around the festival. There is no festival in the world that has such devoted attendees. You support Glastonbury like your favourite sports team. It's a support that will last for life and just like blindly supporting your favourite team you either get it or you don't.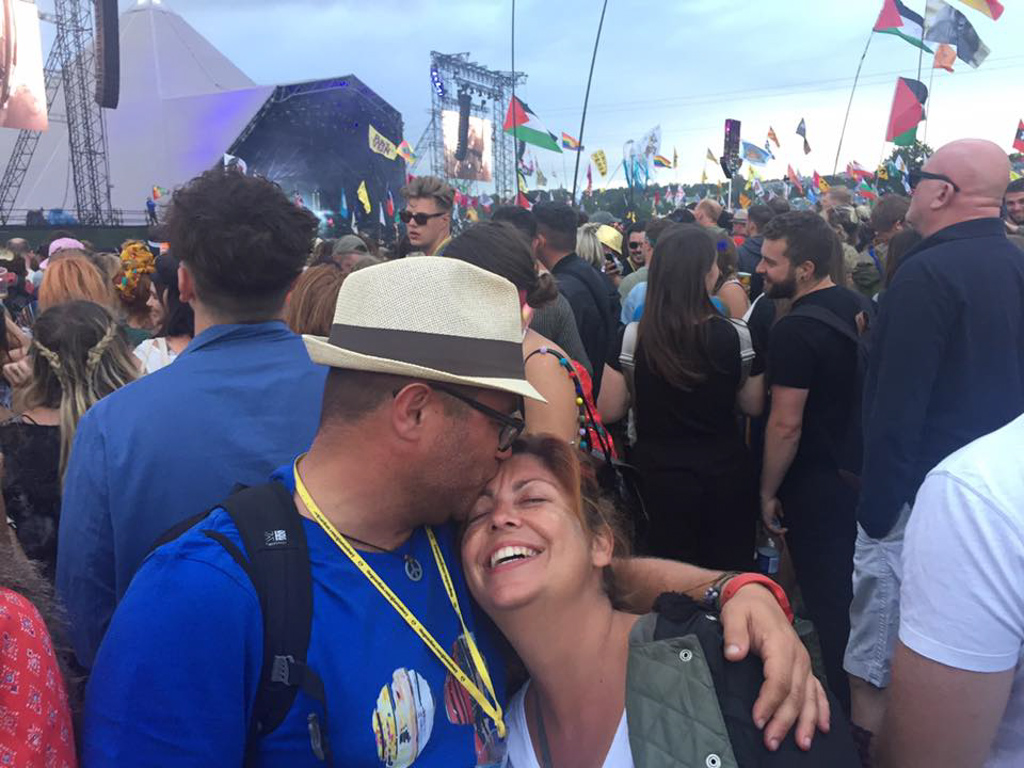 The music is bloody amazing though. From the big acts on the Pyramid Stage to small acts playing to 50 people, I have had so many memorable moments at the festival. I will talk about those moments in a separate post.
It is no exaggeration to say that Glastonbury changed my life. I left that first festival knowing that there are people all over Britain (and the world) that had the same beliefs and morals as me. A belief that the world can be a better place. A belief that you should fight for the less fortunate than you. A belief that being different should be celebrated and a belief that you can do all these things whilst having a bloody good time.
Since that first festival, I haven't missed a Glastonbury unless I have been abroad. Unfortunately, we don't have tickets for the 2022 festival. I suppose this post is a bit like the song I can't get a gig at Glastonbury by Beans on Toast. Have a listen and you will see what I mean.
Update! Since writing this, we have managed to get tickets for Glastonbury 2022! So see you on the farm!
What does Glastonbury mean to you? Let us know on our social channels.
Join our weekly newsletter and get our best tips, information and articles about Glastonbury Festival. This is an unofficial fan site and not connected directly to the festival.