The Ultimate Guide to Glastonbury Stages and Areas
Glastonbury Festival is more than one festival. In this guide to Glastonbury Stages and Areas, you will discover that Worthy Farm hosts many festivals all at the same time.
The beauty of Glastonbury is the sheer size of the place. With over 100 stages set in 900 acres of the Somerset countryside, there is always something new to discover. This could be your first Glastonbury or your 10th, let this guide help you discover every area of Glasto.
We recommend trying lots of different areas. The organisers of Glastonbury call this the Tapas Glastonbury. We couldn't think of a better name. Glastonbury first-timers tend to stick to the main stages. From my own personal experience, I highly recommend mixing it up. What makes Glastonbury truly special is the hidden corners. The areas that you won't find on the BBC red button.
The Pyramid Stage
The Pyramid Stage is probably the most famous stage in the world. This is where you will see the world's biggest acts headline. If you want to have a massive sing-along with 100,000 people this is where to come. This is Glasto's main stage.
There is something special about The Pyramid Stage. The number of famous artists brought to tears on there increases every year. Gigs start around 11:00 and finish at about 23:30. Don't miss some of these early shows. We have watched everything from the local brass band to brilliant musicians from Mali.
The Other Stage
The Other Stage started around the 1980s when the festival started to expand. Now, it seems that there is a new area every year to explore! The Other Stage has attracted acts like Massive Attack, The Pet Shop Boys and The Chemical Brothers.
I have seen many memorable performances here. PJ Harvey in 2016 springs to mind. A lot of upcoming acts play on The Other Stage so keep an eye out on the lineup.
In 1994 The Other Stage (then the NME stage) hosted Orbital as a headliner. A gig that propelled dance music into the mainstream. Up until that gig dance music was seen as underground. Most people needed to go to raves to dance in the fields to heavy beats. Glastonbury changed that.
Glastonbury Tips for The Other Stage
The Other Stage generally has the first set of the weekend and it is normally a surprise set by a big act. It kicks off around 10:30. If you turn up before you will see who it is because the stage will already be set up.
Silver Hayes (2023 Update)
Silver Hayes has grown and grown. A bit like the festival really. What was once a 1,500-capacity dance tent is now an entire dance village. In 2023 Silver Hayes turns 10 and they have changed things up.
The area introduces three new stage creations. The Levels, a new open-air nightclub inspired by the crossover of architecture, lighting and experimental musical art forms, alongside the creative reimagining of 'The Lonely Hearts Club', 'The Firmly Rooted Soundsystem' and the return of cult favourite, 'The Wow' stage.
In addition, the area also introduces a new experimental art pavilion to be unveiled, supported by Arts Council England and the introduction of 'The Information' stage for the first time at Glastonbury – a powerful platform for an urgent debate, putting forward-thinking conversation side-by-side with contemporary electronic music programming.
I love the idea of The Information Stage.
Glastonbury Tips for Silver Hayes
On Saturday, everybody dresses in silver for you've guessed it, Silver Saturday. So grab your sequins and sparkle the night away.
Woodsies Stage (2023 Update)
This is one of my favourite stages. The reason why I love this stage is that it is so eclectic. You can listen to up-and-coming acts from all over the world as well as hip new artists from these shores. It looks like it will be the same even with the new name change if this year's lineup is anything to go by. This stage/tent can get busy so if you want to be near the front head to it early.
Glastonbury Tips for the Woodsies Stage
If you notice a gap in the scheduling then you can almost guarantee that it is a big artist doing a secret set. We watched The Killers here a few years ago and it was epic.
The West Holts Stage
It's time to get funky. The West Holts Stage is where Funk meets soul meets psychedelia. We once came to The West Holts Stage to watch Kae Tempest perform one of the most amazing sets I have seen at Glastonbury. By the end of it, Karen and I were crying our eyes out. We tried to hide our tears until we realised everyone around us was also crying. These are the moments that make Glastonbury what it is.
Glastonbury Tips for The West Holts Stage
Sometimes this stage gets overlooked for The Pyramid, Other or Park Stages. It's a shame because they have had some brilliant acts on here so make sure you come down to get down.
The Park
I love The Park Stage. Emily Eavis ran this stage and area before taking over the entire festival. I love coming to watch a set just before sunset as you can watch the sun go down behind the stage. In 2019 I watched an amazing performance by Michael Kiwanuka.
There are always secret sets here too. Radiohead and Pulp have played sets that were not announced.
Within The Park, you will also find:
The Tall Ribbon Tower – Go up before sunset to watch the rays light up the Vale of Avalon.
The Stonebridge Bar – Live acts play here and it also hosts hip-hop karaoke.
Humblewell/The Wormhole – In the daytime, the Humblewell is a yoga and wellness centre. At night it changes into The Wormhole where you listen to the best of UK Jazz.
The Bimble Inn – A beer garden with a view.
Crows Nest Bar – The perfect name for the highest bar on site. Walk up the steep hill right to the top for great views of the festival. The bar also hosts The Free University of Glastonbury where stars sometimes become guest lecturers. This is also another venue where you might find a secret acoustic set by big names.
The Sculpture Garden – Work by acclaimed artists.
The Rabbit Hole – We got into the Rabbit Hole in 2019. Not to be confused with The Underground Piano Bar, The Rabbit Hole is a not-so-secret venue in the Park. You normally need to know the password to get in. How do you find out the password? We always get it on the Glastonbury grapevine. Once inside, it's like being in a mini-festival within the festival. Which pill will you take?
HMS Sweet Charity – Visual performances and DJ sets each night in you've guessed it, a ship!
The Big Easy Jam – This place is where you come to if you want to say you have played Glastonbury. Loads of instruments are scattered around for anyone to use.
The Parlay Parlour – Come to the Parlay Parlour to debate the biggest issues of the day. Previous debates have focused on the environment, sexual and reproductive health rights, and inclusion.
Glastonbury Tips for The Park
Keep an eye out for who is playing at The Stonebridge Bar. Normally there are a few big-name acts on the lineup.
Cineramageddon (2023 update)
It looks like Cineramageddon has gone for 2023. It has not been confirmed yet but it isn't on the 2023 map so I am presuming this area is no more.
Glastonbury is not just about the music. At Cineramageddon you can enjoy a five-day film festival too. Watch movies in wrecked cars in front of the biggest screen in the UK. It's a bit different from the London Film Festival. More like someone decided to do a film festival on the set of Mad Max. There is also a Lear Jet and a fairground in the area, so why not? You need to book to watch from the wrecked cars.
Glastonbury Tips for Cineramageddon
Alongside Cineramageddon is the Black Lamp where they show pre-release screenings of films as well as q&as and workshops. It is a social space for filmmakers.
Field of Avalon
I have loved the Avalon area since my very first Glastonbury Festival. The area gives off a medieval vibe, it's like Glastonbury 1222 instead of Glastonbury 2022. It also has the best proper pub on site. The Avalon Inn is a two-floor pub made out of logs. If it's raining this is the perfect pub to dry off in.
There is a helter-skelter on-site, alongside craft stalls, tea and cake and two stages, The Avalon Stage and The Avalon Cafe Stage. This is the perfect afternoon place where you will see great acts in a chilled-out environment.
Glastonbury Tips for The Field of Avalon
The Avalon Stage attracts some great acts and gets busy quickly. Head down there when the previous act is on to get near the front.
The Acoustic Stage
If you are looking for a more gentle Glastonbury then you can't go far wrong with the Acoustic Stage. From folk to The Bootleg Beatles, this is the area where some of the original Glastonbury (Pilton Pop Festival) still play.
This stage has been entertaining crowds for the past 30 years and is still one of the best places to visit for chilled-out vibes. Portishead, Robert Plant and The Waterboys are some of the acts that have played here. Michael Eavis has been known to drop by on stage too.
Glastonbury Tips for The Acoustic Stage
The Acoustic Stage is one of the best places to head to if it rains as the vast tent can hold a lot of sodden Glasto Goers.
Pilton Palais Cinema
Before Cineramageddon came along the Pilton Palais Cinema was the place to come for all things film at Glastonbury. I recommend still popping by if you love film as they have some pretty cool stuff going on here. From film quizzes to mass sing-alongs (think Mama Mia, Rocketman and Bohemian Rhapsody), the Pilton Palais is a fun pit stop for an hour or two.
If you do come to the sing-along, why not dress up as your favourite character? There is a prize for the best outfit.
Glastonbury Tips for The Pilton Palais
They don't just play films at the Pilton Palais, there is also love music played here.
Glastonbury-On-Sea
A typical British seaside pier right in the heart of the Somerset countryside? Why not, this is Glastonbury and anything goes. Do you want to watch Punch & Judy? It's here. People with surfboards, yep they are here too. Lifeguards, old-school amusement arcade and sharks? Yep, got them.
There is also music, tarot reading and bumper cards. All together now, oh we do like to be beside the seaside!
The Common
The Common is Glastonbury's take on what it would be like to host a festival at Machu Picchu. Here you will find The Temple, a wooden structure that hosts late-night raves. Fancy a drink in The Cave Bar? Look out for the proper waterfall and zombies and you can have one. If your favourite tipple is rum, like mine then go to The Rum Shack. There is also a Mezcal Yard for the more adventurous.
In the daytime, The Common is a place for learning and discussion. It is hosted by a shaman and talks can range from the environment to ancient wisdom. The hosts are called The Wisdom Keepers.
The opening party is legendary. We still haven't made it but friends that have, swear it is not to miss.
Glastonbury Tips for The Common
Get here early if you don't want to queue for ages. If there is a headliner you are not too fussed about, then come down then.
Theatre & Circus Fields
The first time I came to Glastonbury and stumbled upon this area I couldn't believe my eyes. I thought Glasto was just about music. I never imagined that there would be theatre, circus and comedy here too.
Don't think The West End though. This is where you will get chased by human-sized seagulls or take part in a Kazoo marching band. I am talking from personal experiences here.
In these 3 fields alone there are over 400 acts presenting 1500 shows. That's the scale of Glastonbury. People like Jo Brand, Nish Kumar and Jonathan Pie perform here so it is top-of-the-range comedy.
There is also poetry, family-friendly fun in the main tent and an open-air stage.
Glastonbury Tips for The Theatre Field
We always head here on Sunday for some chilled-out fun. It is the perfect spot to come down after the Saturday night madness.
Left Field
Pop Music and Politics have always been entwined. Left Field is the stage where they meet at Glastonbury. In the daytime, there are debates ranging from the environment, the gig economy and the rise of the far-right.
In the evening there are acts that wear their politics on their sleeves. Anyone from KT Tunstall, Frank Turner or Beans on Toast could be on the lineup.
Left Field has been going since 2002 and Billy Bragg is the curator.
Glastonbury Tips for Left Field
I know it is hard to leave the music but do try and come down for some of the debates. These areas are what makes Glastonbury more than any other festival.
The Underground Piano Bar
Yes, it really does exist. We know because we found it one year and actually got in. The Underground Piano Bar moves every year. Trying to find it within 900 acres is bloody hard. You literally have to crawl on your hands and knees to get in. Once in you will be treated to Michael Eavis having a sing. The photo above is from when I met him there.
Like all stages at Glastonbury, they have some amazing acts on this stage. Celebs have been known to grace the stage too. Once the capacity is met it is one in, one out so try to get there when it opens which was midnight when we went.
Glastonbury Tips for The Underground Piano Bar
This is the question I get asked the most. Here are some tips:
The Underground Piano Bar is run by Irish Travellers. We found a Men at Work road sign written in Gaelic near a worksite and asked them. They denied it but we knew it was the place.
When we found it, it was near The Stone Circle.
If you see a random queue of people late at night, join it. It could be where it is.
Pick up a large paper map of the festival site. We noticed the location faintly printed on it. This is random because the next map we picked up didn't have it.
Kidzfield
Our friends who have kids love the Kidzfield. It's basically a mini Glastonbury for the little ones and from the sounds of joy coming from inside it, the kids are having just as much fun as the adults.
There is everything here to keep the little ones entertained for 5 days. From Helter Skelters to magicians. There are workshops, parades, and climbing walls. The Kidzfield has been on site for 25 years and every year they seem to add a new element to it.
Glastonbury Tips for The Kidzfield
The Magician Dynamo plays Glastonbury every year and there is only one place he plays: The Kidzfield. Make sure you bring the little ones down when he is performing.
William's Green & Carhenge (2023 update)
2023 UPDATE: With the announcement that Joe Rush's resurrection of Car Henge is being created in The William's Green area, I am expecting big changes here.
I love William's Green. We spend a lot of time here on Wednesday and Thursday. A Glastonbury right of passage is to come here on Thursday afternoon and sing along with thousands of other people to Power Ballads. It sets you up for what's to come over the weekend.
Many bands have played The William's Green Tent. Here are just a few: The 1975, Florence and The Machine, Wolf Alice, Elbow and Alt J.
They also show films here so if you need a sit-down, this is a good place as any.
Glastonbury Tips for William's Green
The tent can get very busy so if you want to see an act come when the band before is on.
The Wood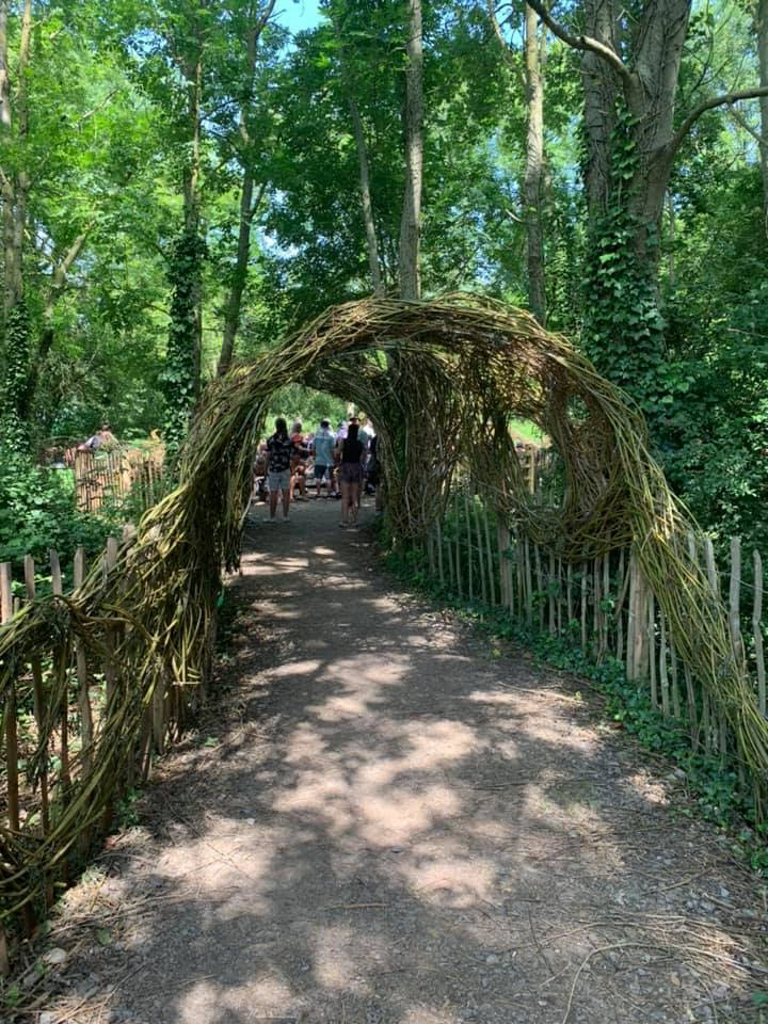 Oh, how grateful we were when Glastonbury added The Wood area in 2017. It was a hot festival and finding shade in the wood saved us. The Wood is a beautiful area and a perfect just to chill out in and chat with strangers.
There is a cafe bar here and art installations. In 2019 there were also reenactments of plays by some guy called William Shakespeare. Look out for The Union Castle, a ship-like tree platform high up in the big Ash Tree. It's named after Michael Eavis's shipping voyages as a young man to East Africa.
Glastonbury Tips for The Wood
Every midnight they light a huge fire here and there are some performances.
The Glade Area
The Glade Area is where you will find some of the best DJs in the world spinning their discs. Located just to the left of The Other Stage you can dance your heart away here from dusk till dawn.
There are two other stages here, The Spaceport and The Glade Lounge Tent. Check out The Spike Bar too, apparently, it is ranked as one of the best bars at Glastonbury.
Arcadia
The Arcadia spider was gone and then it came back! Long live the spider. If you have no idea what I am on about just google Arcadia Spider and watch Youtube. The first time I saw the spider in full-on action I was blown away. I was thinking, bloody Glastonbury, why has it taken me so long to visit you.
Arcadia is one of the most popular areas at Glastonbury. Expect to see world-class DJ's, amazing light shows and a few surprises.
Glastonbury Tips for Arcadia
The show normally kicks in around Midnight. It gets busy so if you want to be near the structure get here earlier.
Block 9
At my first Glastonbury, my mate discovered this before me and called me like a kid in a sweet shop. There is a tube train crashed inside a massive building! I was worried about his mind until I came across Block 9 at about 02:00. It felt like I was in The Matrix.
This is the heart of Glastonbury's naughty corner. You will come across everything and anything here. Fancy going to a Gay New York club? Head to the New York Downlow. Genosys is the clubbing scene from the future and in Block 9 itself, you can club in a disused tower block.
I can't stress enough how mad and bonkers this area is. No matter how tired you are, you have to come and experience it at least once.
Additional bits to Block 9 are IICON, a massive video wall with top DJs playing all night long.
Glastonbury Tips for Block 9
Wander around and try to find all the hidden bars. I ended up in a place called Cat Sushi (I think it was called that). All the bar staff were dressed as cats. There is also a secret bar in nyc downlow called The Meat Rack. Be prepared, anything goes here!
Shangri-La (2023 update)
Welcome to the madness that is Shangri-La. Situated in the far South East Corner every year Shangri-La blows our minds. Each year the organisers add a theme. Previous years have included Heaven and Hell and Junkstaposition.
Like all areas of Glastonbury the more you look the more you discover. This holds true at Shangri-La too. From SHITV where you talent show contests and minor celebs live to The Clash where two crews try to outdo each other on Glasto's first-ever soundclash stage.
Other areas within Shangri-La are:
Nomad,
The Sistxrhood,
The Truth Stage,
Nowhere (new for 2023)
Platform 23
This is why there are over 100 stages at Glastonbury. All the above is in just one area!
I don't want to tell you too much about these areas because I want you to discover them for yourselves.
Glastonbury Tips for Shangri-La
Get here early! Everybody heads down here after the headliners. Also, most things are open on Thursday so come down then and try every door you see!
The Green Fields
We love The Green Fields. For us, it's areas like this that make Glastonbury so special. We normally start our festival here as it eases us slowly into the experience.
The Green Fields have many different areas. From the world-famous Stone Circle to The Healing Field. Make sure you spend some quality time in all of them. This is the area that still keeps the original Glastonbury spirit alive.
Green Futures Field
This is the area that gives us all hope for the future. There are so many inspiring ideas in this area. The stages are all solar powered so as you watch up-and-coming artists you know that the power has been sustainable.
Take a walk along the walkway over the ponds and check out the lighting sculptures at night. There are delicious vegan & vegetarian food outlets here to counterbalance all the other excess.
There are debates at The Speakers Forum and some of the UK's leading charities are here too. We spoke to one charity and they said that 75% of their UK sign-ups happen at Glastonbury. It just shows you how important the festival is for so many.
The Greencrafts Village
At my second Glastonbury, I had an out-of-body experience where I looked down on myself chiselling a huge stone into a shape of a mountain. Now, I know that I drunkenly wandered into The Greencrafts Village.
This is the area where you can axe wood, mess with clay or chisel stone. You will be guided by some of Europe's leading eco-craftspeople. These people are real masters at what they do. All materials used are natural, sustainable and eco-friendly.
Tipi Village
This is another inspiring area that makes this festival so unique. The Tipi Village is the place to come to learn about ancient ways. Enter the great circle and watch the central fire lick flames into the night sky.
Listen to inspirational music from all over the globe and celebrate ancient traditions. Dance the night away with roots, folk and global fusion surrounded by the stunning tipis. How many festivals can say that?
Croissant Neuf
These are the areas that you just don't see on TV. Croissant Neuf plays host to music, eco-friendly chats, workshops and environmental displays.
Croissant Neuf pioneered the use of Solar Power at festivals, starting in 1987. There are two stages at Croissant Neuf. The Croissant Neuf Venue and The Bandstand. We have watched some amazing artists on these stages, especially on Thursday nights.
The Greenpeace Field
The Greenpeace field is always a main focal point in The Green Fields. In 2019 they had an interactive rave tree, Virtual Reality headsets, a skate ramp and eco-friendly showers.
The field is designed to educate and entertain with nature being the theme. I don't know why but one of the most entertaining things here is the massive drop slide. Watching pissed-up Glastonians drop down a massive slide tickles me pink every year!
There is also a cafe and bar on site.
Green Kids Area
If you have young eco-warriors with you this is the perfect place to bring them. Located at the back of The Greenpeace Field this area is open from 08:00 to 21:00. All activities in the Green Kids Field are free of charge.
The kids will be entertained with comedy workshops, art and craft tents and a book club. There is also storytelling, robotics and olde world games. I wish I came here when I was a kid!
There is also a ship! Whilst your kids have fun you can listen to live music and DJs. The perfect trade-off!
The Peace Garden
One Sunday morning we woke up early with heavy hangovers and walked from one end of the site to the other. It was raining. Why were we heading to The Peace Garden so early? Well, the Dalai Lama was giving a talk. Only at Glastonbury huh? If you fancy some quiet me-time, head to The Peace Garden and sit amongst the flowers.
The Healing Field
This is the first area we head to once we have set up camp. It is the perfect way to start the festival. It is super chilled and there are loads of free workshops.
You can find Yoga, Tai Chi, Meditation and Massage here. You see, Glastonbury is not all about hedonism. The design of the field expresses the petals of an Elemental Mandala. There are circles that embody the energies of Fire, Earth, Air and Water.
The Healing Field is also a great place just to sit in and unwind. Believe me, you need to do that now and then. Glasto is a marathon, not a sprint.
The Stone Circle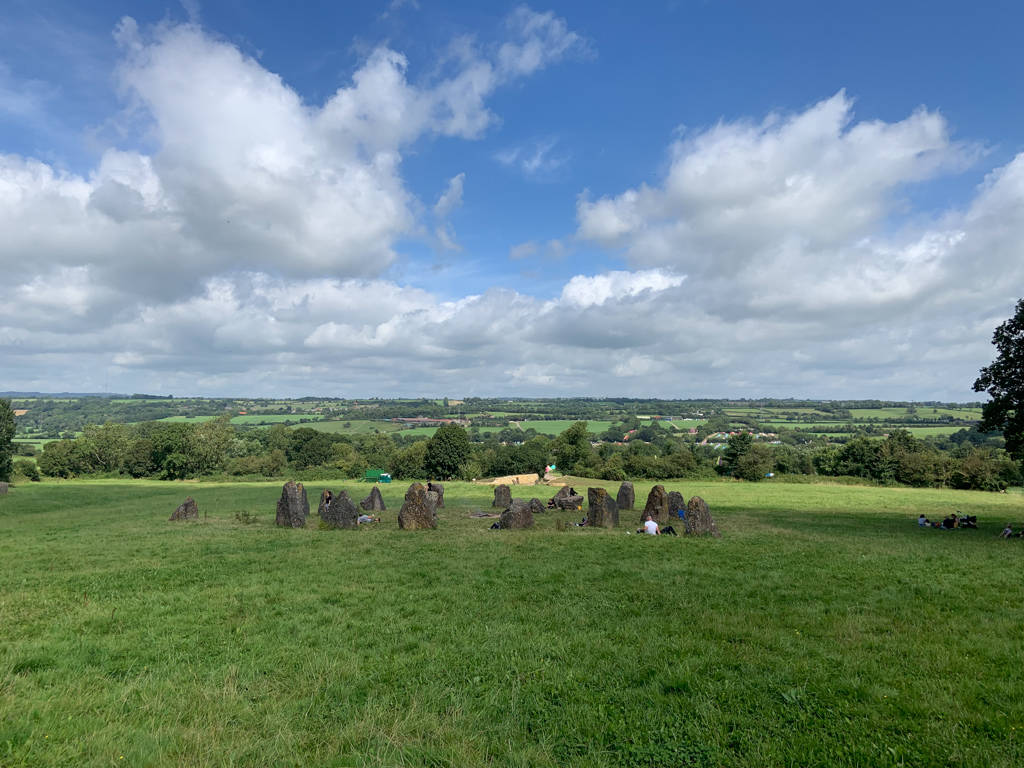 Another Glastonbury right of passage is to sit up at The Stone Circle and watch the sunrise. We have done this a few times. It is mad, beautiful and funny all at the same time. You will not be alone. Although you can find some quieter spots away from the actual circle.
When we went to Worthy Pastures last year we had the circle to ourselves on many occasions. It was magical. Even if you don't fancy staying up all night to watch Sunrise, still make your way up here. It is a stunning place.
Glastonbury Tips for The Stone Circle
Have a wander around and you may find some dragons!
Unfairground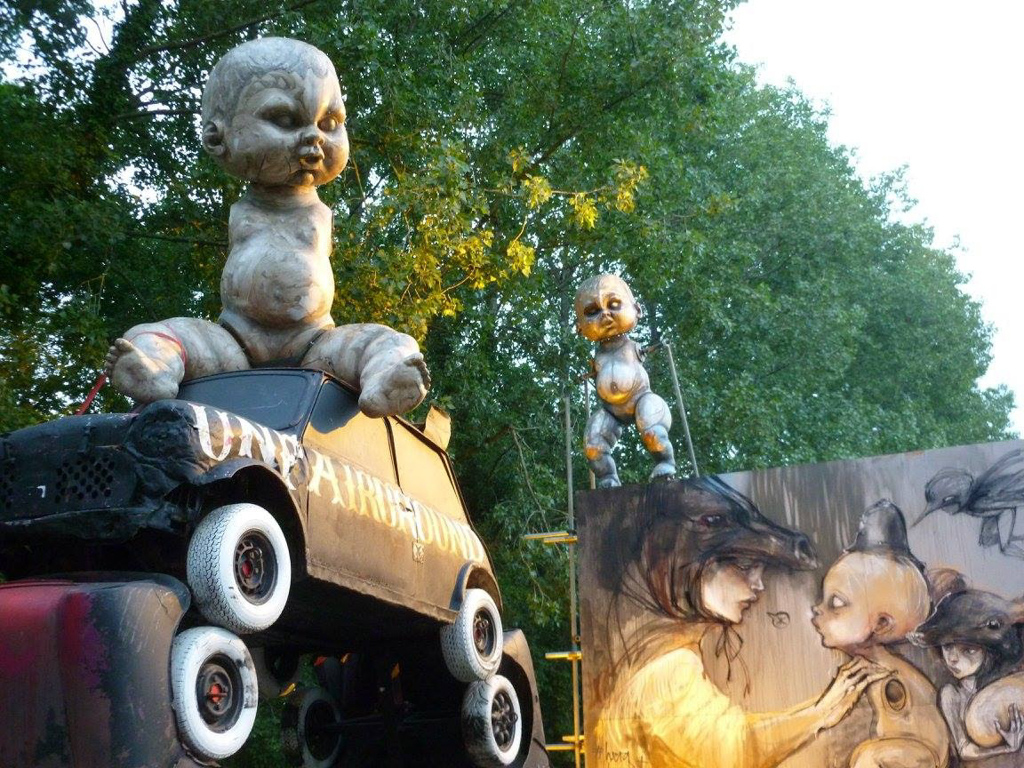 The Unfairground is a dystopian hell with wrecked aeroplanes, motorcycle pile-ups and alternative night games. This is the first part of the naughty corner and what a way to enter. The Blind Tiger is a speakeasy, to enter you have to walk inside Elvis's mouth!
The Salon Carousel brings you the best of the UK's underground rave scene. All be it with a sinister twist. The Flying Bus stage has live music until 23:00 which is then followed by the best house music DJs.
Glasto Latino
Glasto Latino is all things Latin America. With Music, dance, colour and partying. On my very first night at Glastonbury, I ended up here. I drank way too much rum and lost all my mates! I soon made new ones thought and my love affair with Glastonbury began.
Glasto Latino is an all-day affair. With Latin dance classes in the daytime, live bands in the evening and a party until 04:00. That is true Latin style. There is always a great vibe here so make sure you pop along.
Glastonbury Tips for Glasto Latino
At 19:30 on Wednesday, there is a Cuban-style carnival procession with musicians and costumed performers. It is the perfect way to get the party started.
Deluxe Diner / Rocket Lounge
Glastonbury is not short of great places to eat. As foodies, we love that about the festival. On average, we walk/dance around 35,000 steps a day so we need to keep our energy up.
If you fancy elevating your festival foodie experience, head to The Deluxe Diner. Here you can have Gin soused Sea Bass, Grilled Devonshire Lobster and Peach, Lavender, and Almond Tart. Live Jazz is played in the background. It's a bit better than a greasy burger!
Glastonbury Free Press
Did you know that Glastonbury has its own newspaper? Come down to the Glastonbury Free Press for a free copy. The paper is printed on a vintage 1957 printing machine. Make sure you buy some of the posters too.
Strummerville
One of my favourite spots at Glastonbury. Strummerville is a charity that honours the legacy of Joe Strummer. Joe loved Glasto and would create a huge fire every year where people from all over the world would sit around it, jamming, chatting and chilling.
This is recreated now right at the top of the festival giving you great views below. Come up and grab a drink and make friends whilst you put the world to rights.
Glastonbury Tips for Strummerville
Many famous acts have jammed around The Strummerville Fire. They normally play late.
The Bandstand
One of the smallest stages at Glastonbury but the one that often surprises. We have had many a boogie here to brilliant acts on our way back to The Pyramid Stage.
There it is. The Ultimate Guide to Glastonbury Stages and Areas. This being Glastonbury, there are many areas that are not included like places to eat, drink or take a sauna (yes, you really can).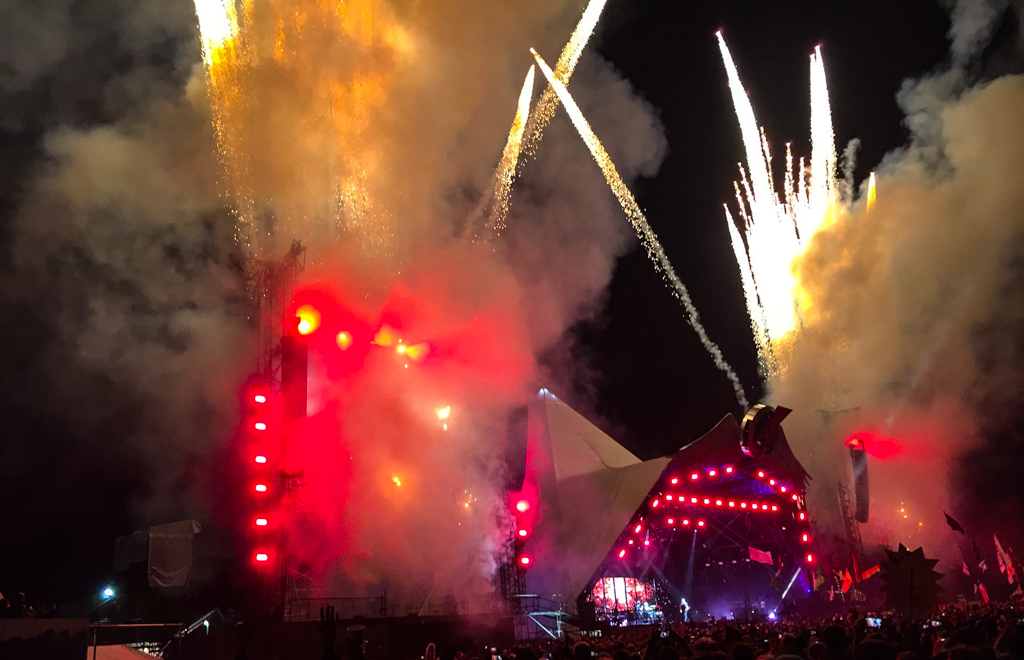 If there is an area that you think must be included, please drop me a line and I will add it.
If you are looking for the best places to camp at Glastonbury click the link below:
Best Places to Camp at Glastonbury Festival
If you want to know what to take to Glastonbury check out our packing list: