In search of the mythical Underground Piano Bar at Glastonbury Festival
It's a Glastonbury Festival myth someone once told me. It doesn't exist another said. A secret hidden underground bar? Never heard of it. These were the answers I received when asking about this secret bar. Well, I can tell you that The Secret Underground Piano Bar does indeed exist and it isn't a myth because I have been in it.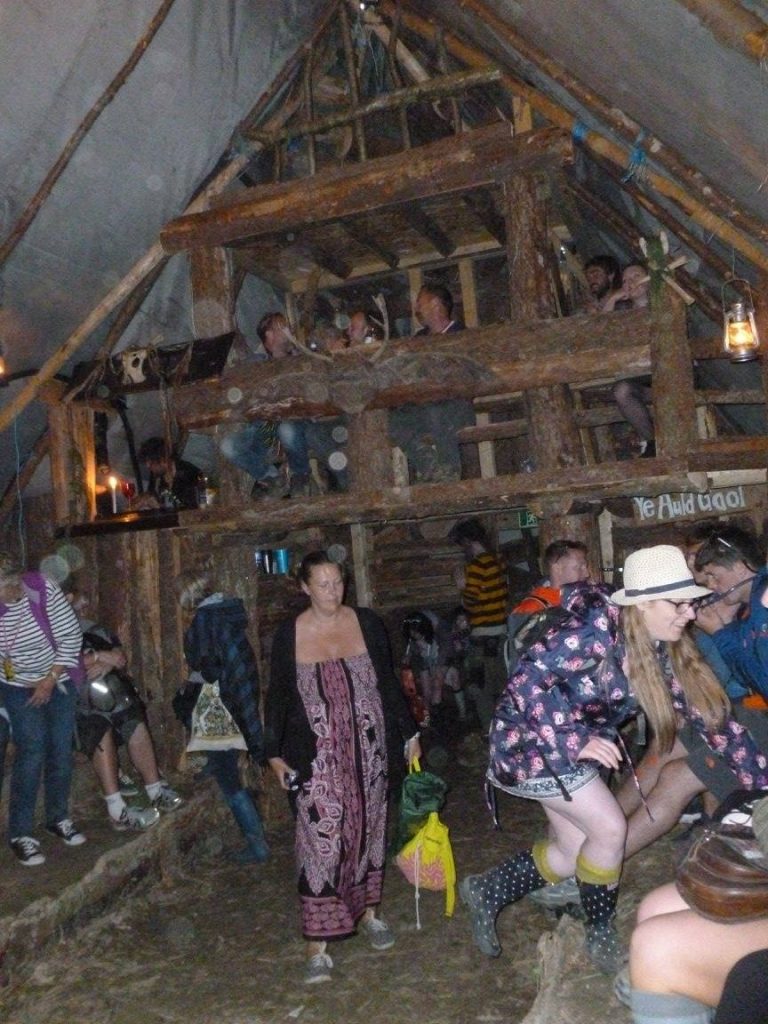 The first time I heard about The Underground Piano bar was on the BBC. To be honest, during my first Glastonbury I didn't even think about it. Like all first-timers, I was overwhelmed with all the possibilities that Worthy Farm had to offer. I mainly hung out at the main stages and the world-famous Pyramid stage. It was at Glastonbury 2010 when I decided I had to find it. I did find it but in 2015!
You see, the trouble with The Underground Piano bar is the fact that the bloody thing moves. It is never built in the same place, so trying to find a hidden bar within 1,000 acres is pretty tough. The more I read about it, the more I wanted to go. It's Michael Eavis's favourite part of Glastonbury. If it's good enough for the main man, then it has to be good. Plus, I read big-name stars like Joe Strummer would pop in for a jam session.
How to find The Underground Piano Bar at Glastonbury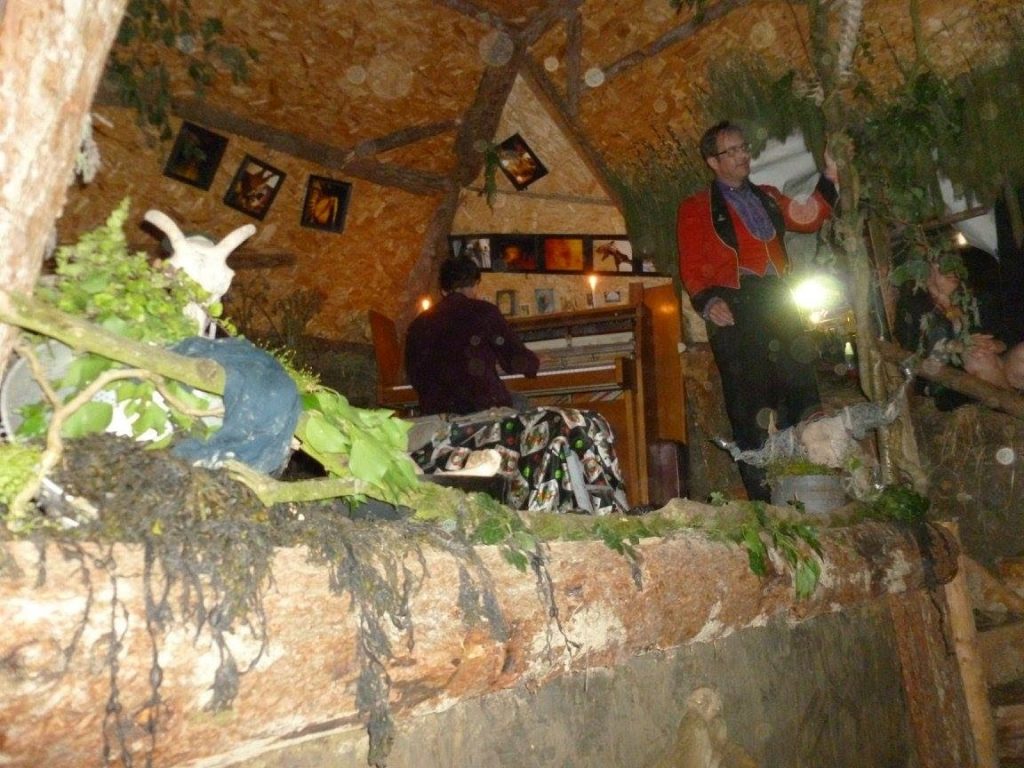 Look for a large hole, a small stage and a wooden frame. Just kidding. I wish I could tell you the secrets to finding it. All I can say is what happened to us in 2015. It has probably changed many times since then but that's what makes it fun.
So how did we find it? Well, we were lucky. I read that Irish travellers build The Underground Piano Bar. We always arrive at Glastonbury on the first day. After setting up camp we normally head up to The Green Fields and Stone Circle. As we walked up, I noticed a Men at Work sign written in Gaelic. It was east of the sacred space. This must be it I thought. I asked a guy who was standing there and he categorically denied it was The Underground Piano Bar. He wouldn't say what it was apart from the fact that it was opening at Midnight on Friday. We just knew it was the place.
For obvious reasons, they don't put the location of The Underground Piano Bar on the festival maps or in official guides. It is always in a secret spot. However, that same day, we picked up a large paper map from one of the stands in The Greenpeace area. As we lay on the grass sipping our ciders, I looked at the map. There in really faint font was the word piano. It was right in the same spot we found the men at work sign. Result!
We didn't go to the bar on Friday night because it was clashing with a band we really wanted to see. For glasto newbies, this happens a lot! When Kanye West played on Saturday night we decided to head up to see if our suspicions were correct. As we got near we could see there was a queue. So we joined it. (Glastonbury Tip: If you see a random queue to a strange place, join it!).
The guy in charge said that the venue can hold 50 people max. Then it is one out, one in. We really hoped we were within the first 50. The same guy was also handing out shots of poitin for £1 while we waited. Having a shot of poitin after drinking all day at Glastonbury is the perfect way to see in midnight!
Bang on 24:00, they opened the door. Thankfully, we were within the first 50 and crawled our way in. We found some seats and waited with anticipation. We couldn't believe we had finally found the mythical Underground Piano Bar! This is the holy grail of Glasto! Once everyone was in, the live music started and it was brilliant. The stage is small and you have to be quiet because there are no acoustics. Some brilliant musicians played that night.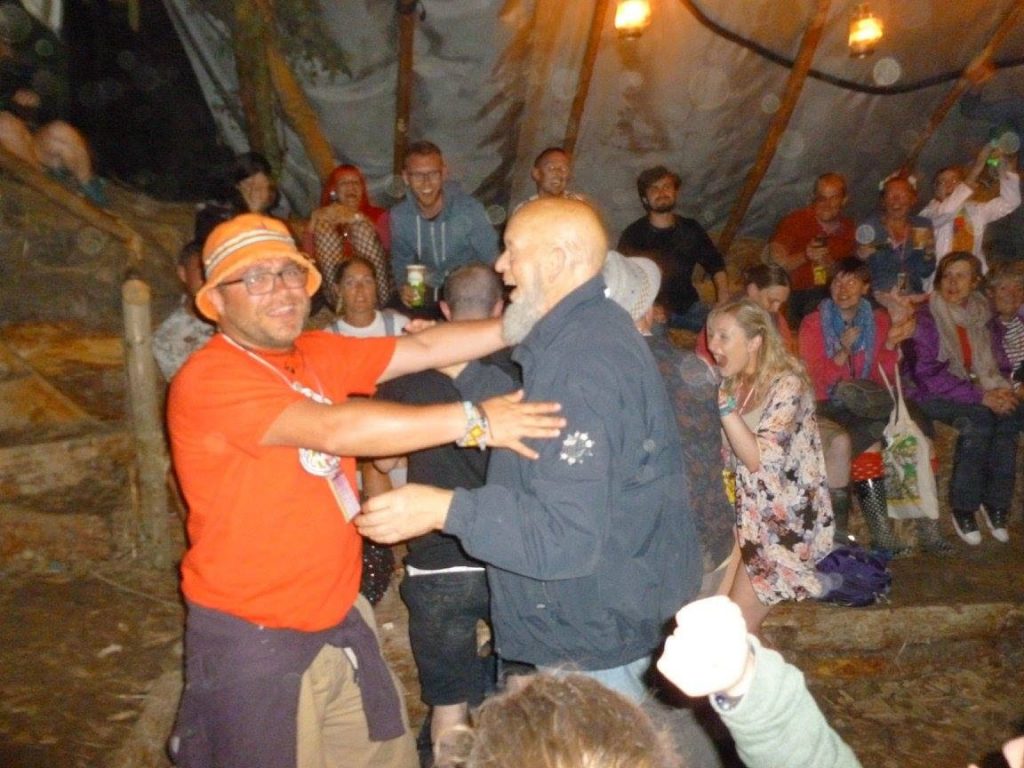 The highlight was when Glastonbury founder and all-round legend, Michael Eavis walked in. I had to have a photo with him. This was too good to be true. He got on stage and belted out a few numbers. My Way comes to mind. Then after 30 minutes, he left. We stayed on till about 04:00 and staggered our way back to our tent. We had such a great time.
We have had many amazing moments at Glastonbury. Discovering The Underground Piano Bar is one of them. It is telling that the first post on this website dedicated to just one stage is on The Underground Piano Bar. For me, that little bar captures what Glastonbury is all about. Don't get me wrong, I love the mass sing-alongs in front of The Pyramid Stage. But, The Underground Piano Bar is a truly unique experience. These are the experiences that make Glastonbury stand out from other music festivals and why after 52 years people still flock to Worthy Farm.
Let's see if any of us finds it this year.
Glastonbury Festival Myths
Just like when Han Solo tells Rey in Star Wars that the force and Jedi are all true so are most of the Glastonbury myths.
There is a secret area called the Rabbit Hole. Like The Underground Piano Bar, you have to crawl into it but this time in a warren of tunnels. Don't get this place confused with The Rabbit Hole Bar. I will write about this place soon.
There is a hot tub at Glastonbury.
There is also a sauna.
Do you know of any other Glastonbury Festival myths that are actually true? Please share them with us in the comments and I will add them to this post.