After 3 long years, the world's greatest festival is returning. If you are one of the lucky ones that have managed to get a ticket here are 22 interesting Glastonbury Facts to celebrate the festival's return.
1) When is Glastonbury Festival held?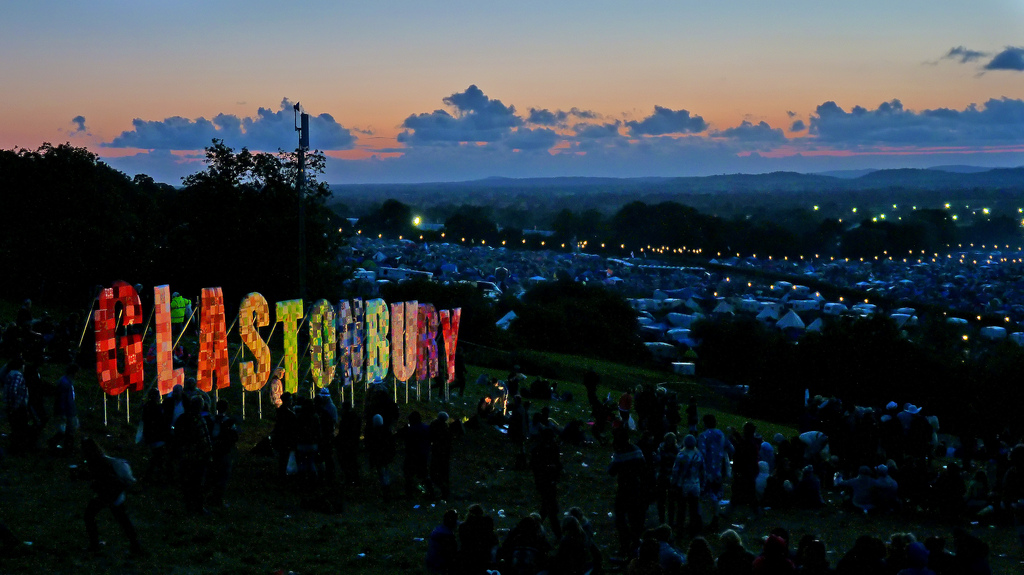 Glastonbury Festival is held on the first full weekend after the summer solstice. This is normally around the last weekend of June.
2) How big is Glastonbury?
Glastonbury Festival is big. Glastovirgins always underestimate how long it takes to get from place to place. The Glastonbury area size is 1,100 acres which is the equivalent of 500 football pitches. The length of the fence around the festival site is 8 miles.
3) Number of toilets?
400 cubicles (including the infamous long drops, eco-toilets and some portaloos.) There are also 700 meters of urinals. The toilet situation has improved every year. Almost all of the portaloos have gone being replaced by the long drops. Glastonbury Tip – Try to use toilets in the quieter areas of the festival.
4) How many stages are there at Glastonbury?
Over 100 stages hosting at least 3,000 performances. When people moan about the Glastonbury headliners (normally, people who have never been) it always makes me laugh. With over 3,000 performances I am quite sure there is enough to entertain everyone.
5) Number of bars and food outlets?
There are over 100 bars and more than 500 food stalls. The food at Glastonbury is fantastic. As we have just read the sheer size of the festival makes it feel like a city. Like any city, there is loads of variety when it comes to places to eat. Fancy Tibetan momos? Or how about some tapas? You will find them and much more. The festival hosts annual trader awards focused on sustainability, and winners are offered free or affordable pitches at the next event.
6) What is the total site capacity of Glastonbury?
At the moment it is 203,000 but the organisers have permission to increase it to 210,000 as long as the extra 7,000 people arrive by public transport. The 203,000 does not include officials, police and children under 13.
7) Number of tents at Glastonbury?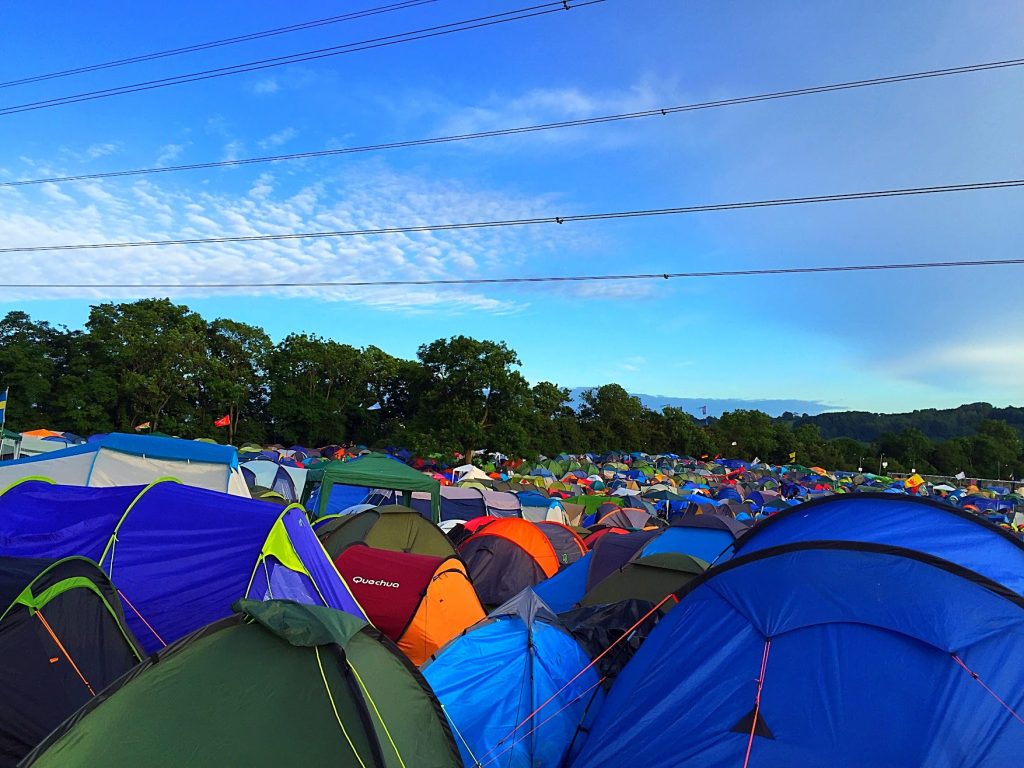 At least 76,000! On my first Glastonbury night, it took me ages to find my tent. Glastonbury Tips: Download the what3words app and create a pin once you have set up camp. That way you will find your tent no matter how many ciders you have consumed!
8) How long has Glastonbury been running?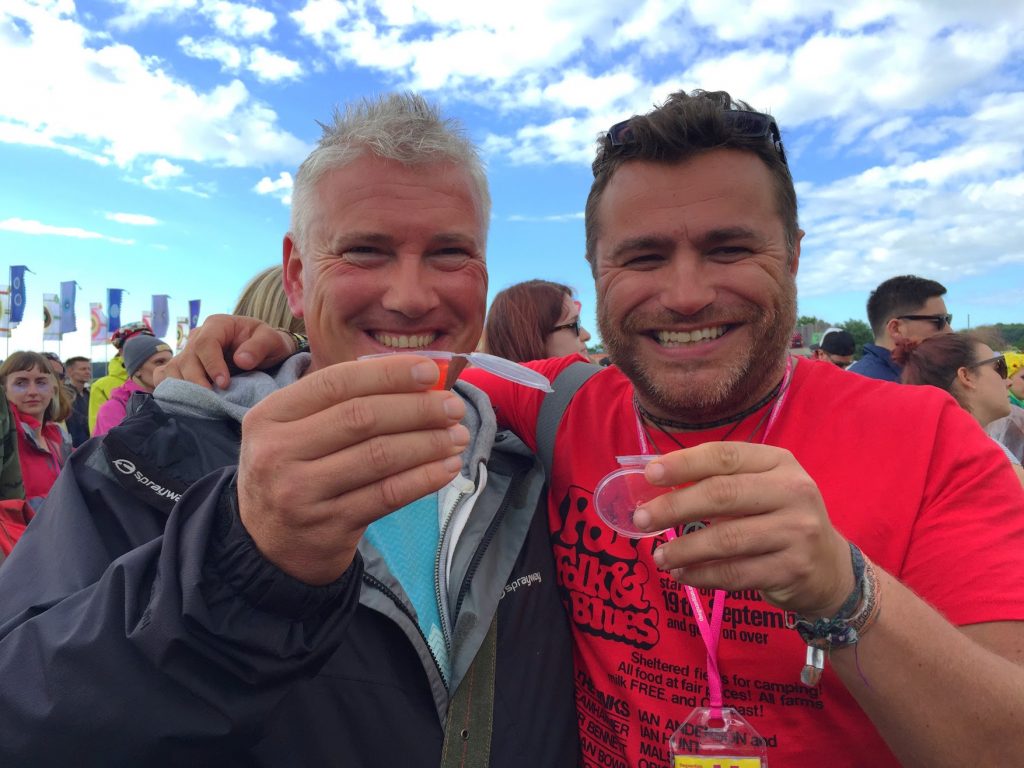 The first Glastonbury (then known as The Pilton Pop, Folk and Blues Festival) was held on 19th September 1970. It cost £1 to get in which included free milk from the farm. 1,500 people attended to see T-Rex, Alan Brown and Steamhammer. The Kinks were meant to play this first festival but pulled out at the last minute. Other previous headliners are Paul McCartney, Foo Fighters, Kanye West, Bruce Springsteen, Van Morrison, Arctic Monkeys and Stevie Wonder.
9) Number of rubbish bins at Glastonbury festival?
Over 40,000 so you have no excuses to leave crap around. Remember, Love the farm and leave no trace. Almost every bin is hand-painted too. Each one is different with glasto stories and images on them.
10) Where is Glastonbury Festival held?
It is held at Worthy Farm, Pilton, Somerset. Worthy Farm is still a working farm. It produces 10,000 litres of milk a day. You can buy the milk from the trucks that go around the festival.
11) The stage is sinking!
In 1997 The Other Stage sank! Heavy rain on the Sunday saw The Other Stage start to sink into the mud.
12) Where is the guitarist?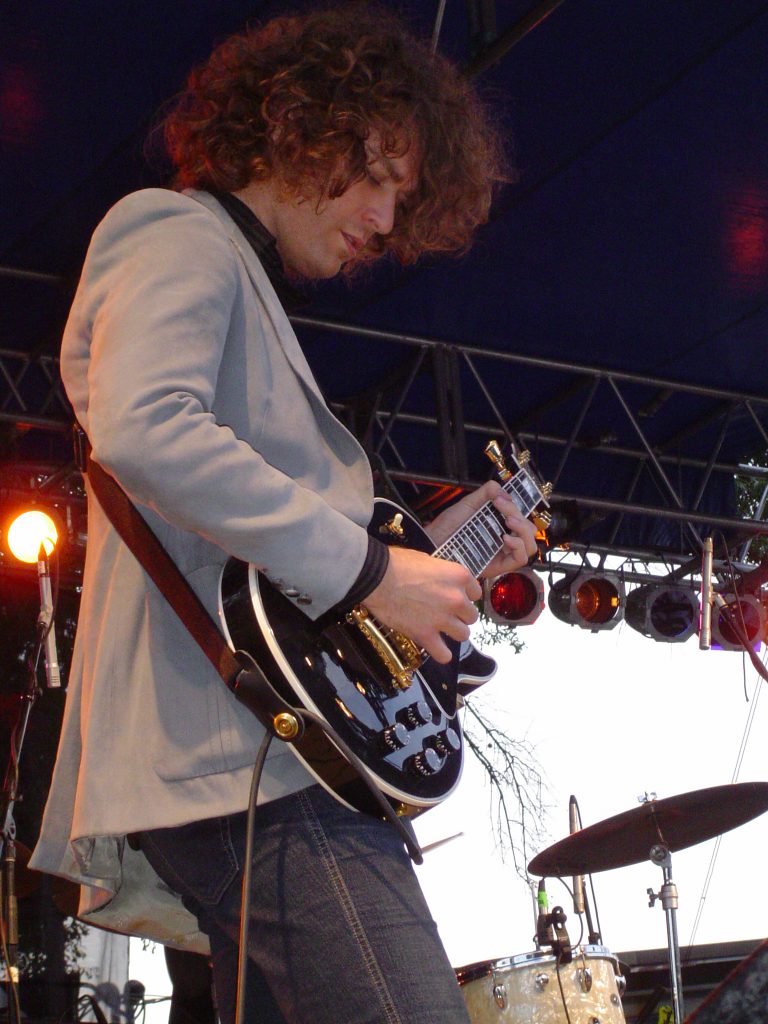 The Killers left their guitarist Dave Keuning at a service station on the way to the festival in 2005. They had to go back and pick him up. They just made it for their headline slot.
13) You need to wear a bulletproof vest!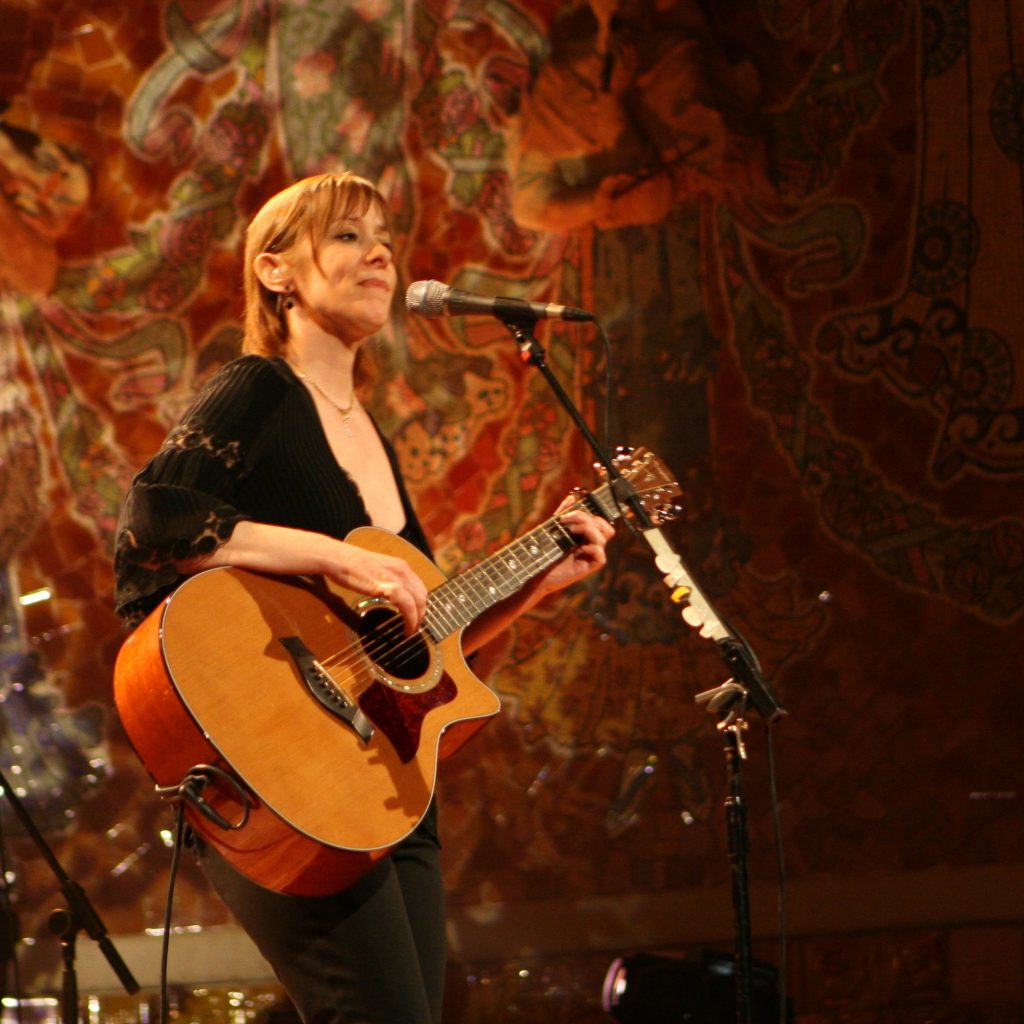 Long before Stormzy wore the Banksy stabproof vest, Suzanne Vega performed at Glastonbury wearing a bulletproof vest! She had received death threats but was determined to play the festival so police advised her to wear a bulletproof vest. That's dedication.
14) Glastonbury Mud
People have sold Glastonbury mud. This is not made up. One person managed to sell some Worthy Farm mud for £74 in 2004. Whilst another punter had some mud from the festival framed. I am quite sure no other festival in the world has such devoted fans.
15) The Trouserless Year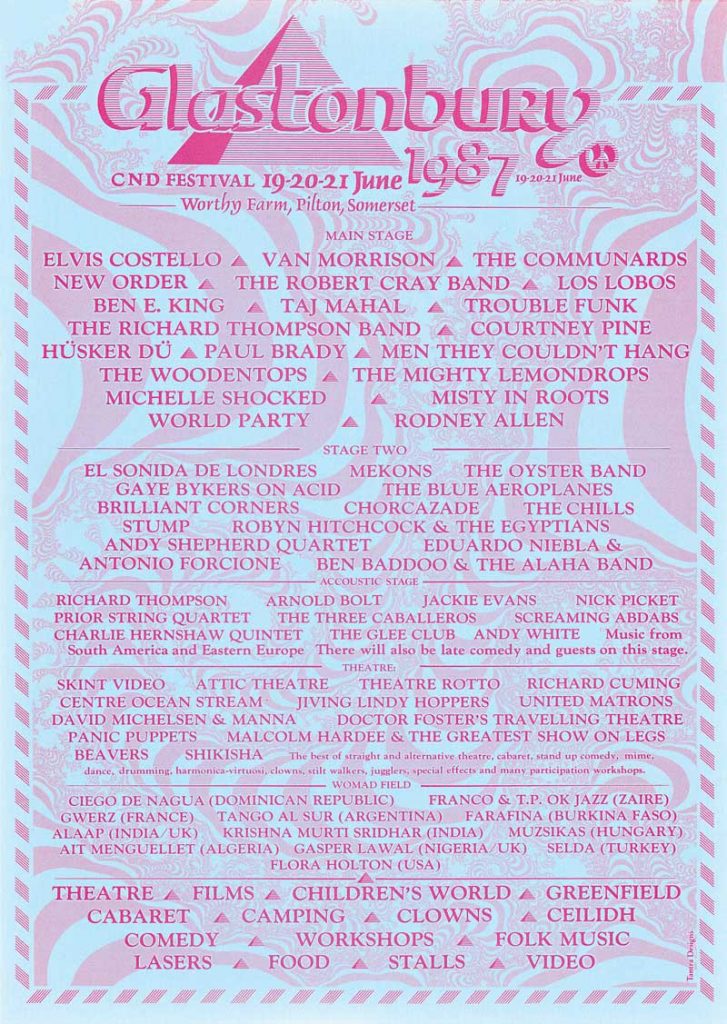 In 1987 thieves stole people's trousers. Quite a few people had to wander around the festival looking for their trousers after thieves took them out of their tents. The trousers were eventually found in a ditch.
16) Fights, Thieves and Riots
In the 80″s the festival was a little different. There was more of an edge to it. For some years the chaos almost became a riot. There were even reports of a man seen with a shotgun!
17) I'm having a baby!
Babies have been born at the festival. There are at least 3 babies known to have been born during the festival. Sean Crothers and Heidi Wesson even received a personalised gift from The Rolling Stones following their headline set in 2013.
18) The People's Festival
People created their own festival in 1978. Glastonbury became an annual event in 1981. However, in 1978 500 people rocked up to Worthy Farm and created their own festival. There were no headliners and the power was created by a generator that they brought with them.
19) Peace and Love
The Glastonbury vibe is so contagious that Police officers often dress up. One year they were dressed as fairies.
20) The Pyramid Stage is born
iN 1971 The Pyramid Stage is born as David Bowie, Joan Baez and Fairport Convention play in front of 12,000 people. The festival was called Glastonbury Fayre in 1971. It soon became an icon and is still Glastonbury's main stage. The current Pyramid Stage is the 3rd version after the second one burnt down in 1994 just before the festival. The spot where the Pyramid Stage is on an area where two Ley Lines meet. In Pagan Beliefs the meeting of Ley Lines creates amazing energy. Hence why the main stage is in a Pyramid Shape.
21) The Underground Piano Bar
There is a secret stage at Glastonbury called The Underground Piano Bar. It is located in a new area every festival and is not on any maps. We found it once and spent the night there where we met Micahel Eavis. It is his favourite part of the festival.
22) Sunday Morning Service
The Dalai Lama turned up at Glastonbury. How many festivals can claim that? Listening to him speak in The Peace Garden on a wet Sunday morning in 2015 was one of those Glasto memorable moments that will live with us forever.
We hope to see you on the farm to create some new stories and facts! Peace and Love.
*Some images are shared through the creative commons.