Glastonbury Festival Bar Crawl. Created by popular demand for our readers and followers. I present The Glasto Bar Crawl. Be warned this is subject to change as the bars sometimes change on site but I have included places that have been at Glastonbury for years. Also, we tried this last year and made it to 2 bars out of 11! That is Glastonbury for you! We most probably will start this at 11:00 on Thursday. Follow me on my Telegram Channel for info on the day.
Glastonbury Festival Bar Crawl:
1) The Village Inn/Cider Bus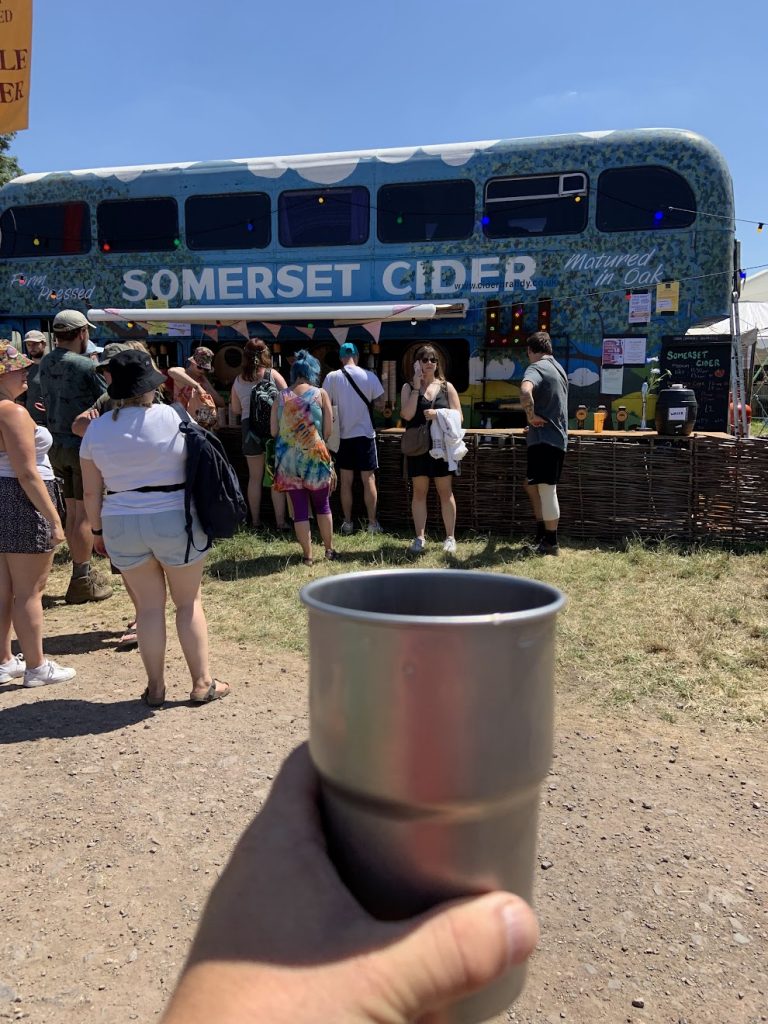 This is normally our first port of call once we have put our tent up on Wednesday morning. It will be a good starting point for our bar crawl.
I have chosen both The Village Inn and Cider Bus because they are located next to each other and not everyone likes Scrumpy Cider. The Cider Bus has been coming to the festival since 1970 in some shape or form.
Location: To the left of The Pyramid Stage if you are facing it and just below The Kidney Mead camping area.
2) The Cockmill Bar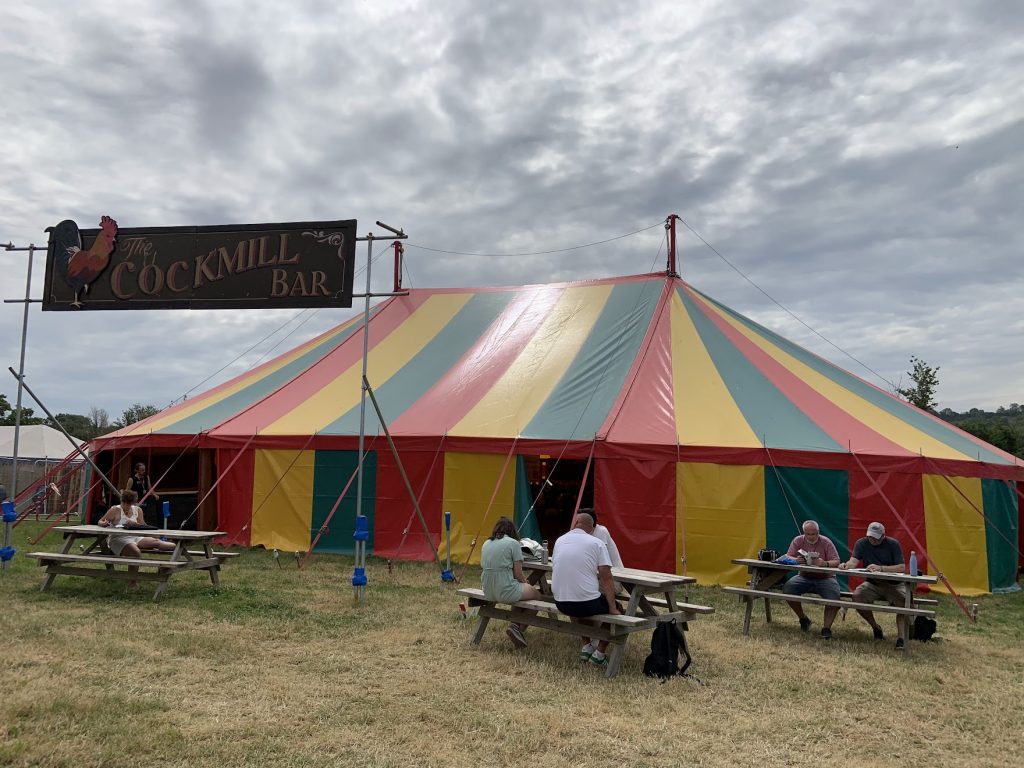 Next up will be The Cockmill Bar which is just a short walk away. Be warned in typical Glastonbury style, if we manage to do all the bars on this list, there will be a lot of walking involved!
The Cockmill Bar always has a nice chilled vibe. In fact, the whole area around it is chilled too so if you fancy a more mellow atmosphere, head here.
Location: Between The Acoustic Stage and Pilton Palais.
3) Theatre Bar
The Theatre Bar is just down the hill from The Cockmill Bar so it is an easy stroll. Although we might get sidetracked with the street performers. Watch out for the SeaGulls!
Location: Theatre Area.
4) Ridge & Furrow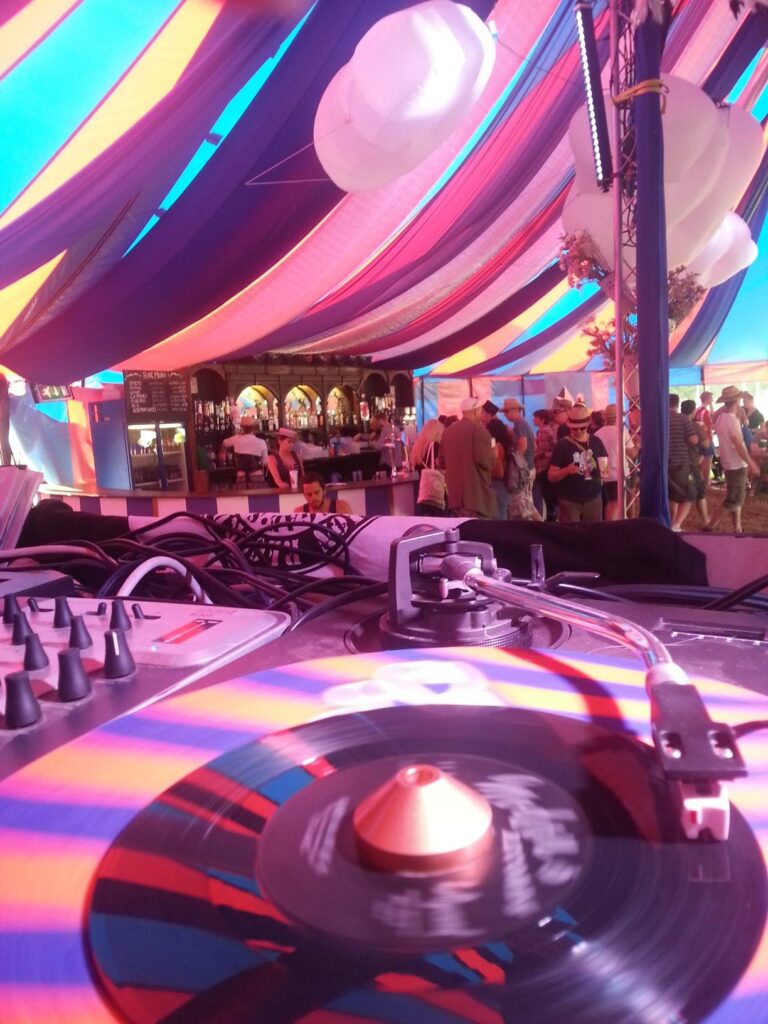 Just down from the Theatre Bar is the Ridge and Furrow. I am not sure I have been to this bar. This being Glastonbury I could have had some of the best nights of my life here and wouldn't remember it!
Location: Cabaret Field
5) Avalon Inn
This is one of my favourite bars on site. A medieval inn built entirely of wood and then taken down again. Amazing. This is a great place to start your festival from. Go up to the second floor and slowly watch the site fill up.
Location: Field of Avalon
6) Strummerville
After visiting 5 bars (if we make it this far) we are going to need to walk some of that booze off. Walk we shall because Stummerville is located right above The Tipi Village. This area and stage is a charity in the name of Joe Strummer who came to Glasto every year and held impromptu gigs around the campfire. We shall honour the leader of The Clash by having a drink around his fire.
Location: Strummerville
7) The Crows Nest / Trickets Bar
I can't believe I have never made it to this bar. Offering amazing views of the whole festival, The Crows Nest / Trickets will be a perfect place to soak it all in. We are now at one of the highest points of the festival so It is all downhill from here. Literally!
Location: Above the Park
8) Bimble Inn
Bar number 8 is down the hill into the Park area. The Bimble Inn is a solar-powered tipi that has live performances and DJs. Here we can sample their own in-house cider or frozen cocktails.
Location: The Park
9) The Spike Bar
I am not sure if The Spike Bar is open all day. I hope it is because it is a perfect place to have a drink and chill. It is located in The Glade Area and is set up amongst the trees. A good place if it is a scorcher!
Location: The Glade
10) The Taphouse
The Taphouse made its debut in 2019. This bar plays good tunes all day (where doesn't at Glasto!), and the structure is made from old wood panels and steel. They serve craft beers and ales straight from the keg.
Location: Left Field
11) The Cornish Arms
We have a short walk to bar number 11. The Cornish Arms has ales and If I remember rightly from last year, great rum cocktails. There is also live music here and the bar stays open till at least 03:00.
Location: Left Field
12) Brothers Bar
We can't have a Glastonbury Pub crawl without stopping at the Brother's Bar. Brothers Cider is the official cider of Glastonbury and the company actually began at Glastonbury so it is only right we have a pint here. Just the one mind, this is bar 12 after all.
Location: West Holts
13) Elephant Bar or San Remo
We have a dilemma for the last bar on our list. We can either go back to where it all began and head to the Elephant Bar which is located near The Cider Bus or we can head towards San Remo and get into the groove. To be fair if we have made it this far which I find highly unlikely, I don't think it really matters!
Locations: The Elephant Bar is near The Cider Bus and San Remo is to the right of The Pyramid Stage.
Bonus Bars
If we are still standing by late evening we can head to these Glastonbury hidden gems:
14) The Rabbit Hole and The Underground Piano Bar
Read about both bars below:
See you on the farm!