The Best Bars At Glastonbury Festival. You have made it to Glastonbury! Amazingly you managed to get a Glastonbury Ticket. You have waited patiently in the queue and camped with all your mates in your favourite camping spot.
It is Wednesday afternoon and the sun is shining (we hope). For the next 5 days, you can be whoever you want to be. So what is first on your agenda? Drink of course! There are over 100 bars at Glastonbury so just about enough for the thirst quenchy.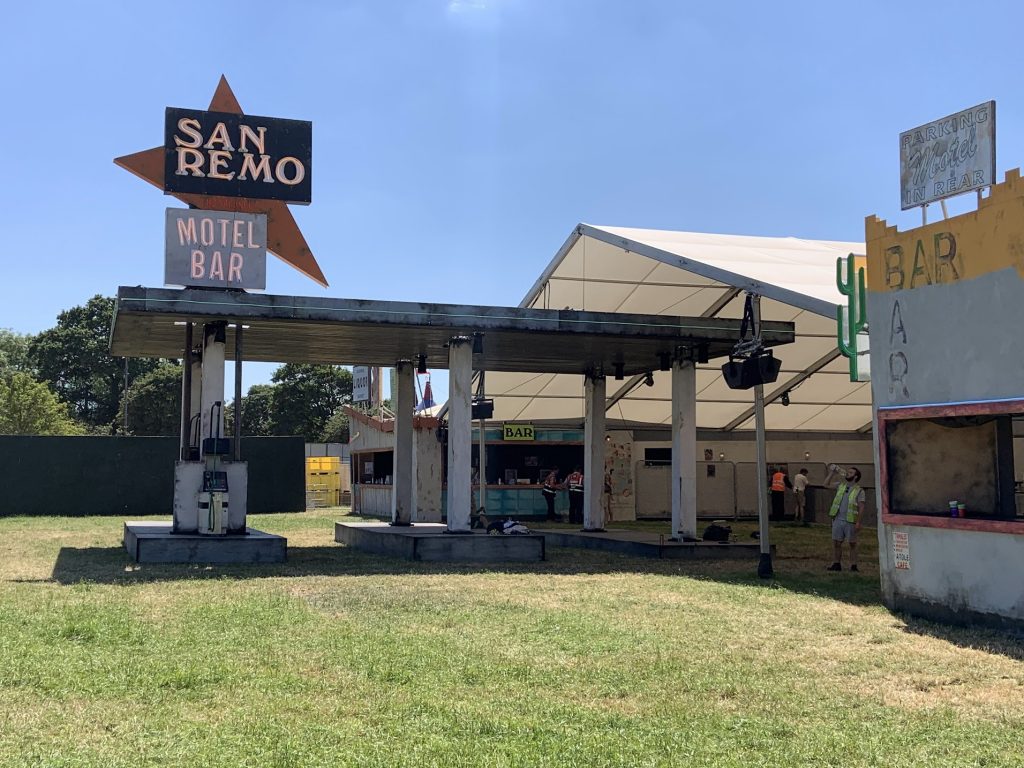 Below is a list of the best bars at Glasto. Just remember not to peak too early! I will have a cider. And stay tuned for a Glastonbury bar crawl. We tried it last year and only made it to two bars!
Avalon Inn
Avalon Inn is one of the most impressive structures built at Glastonbury. Go back in time at this medieval inn with fantastic ales and a great atmosphere. The bar is set over two floors and made entirely from wood. It is one of my favourite bars at Glastonbury.
Location: Field of Avalon.
The Cockmill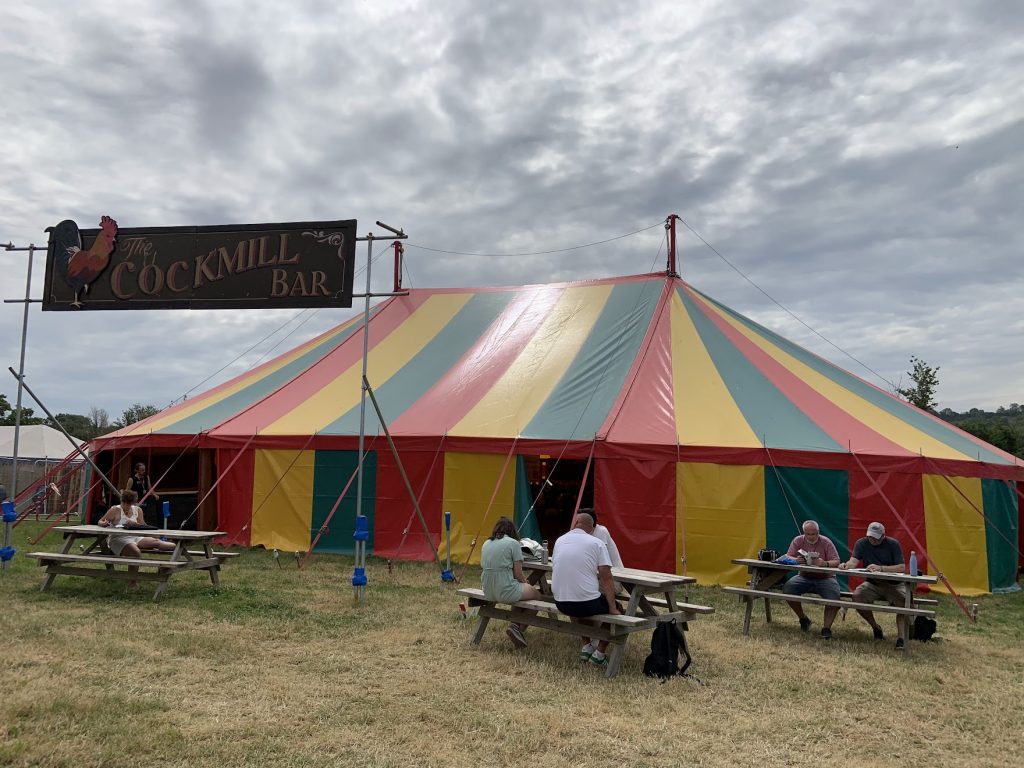 Another favourite of mine. The Cockmill serves a selection of 12 ales, (3 from Somerset). It is a good place to ease your way into the day as it is located in a chilled area of the festival. There are places to sit inside and out.
Location: Between The Acoustic Stage and Pilton Palais.
The Village Inn / Cider Bus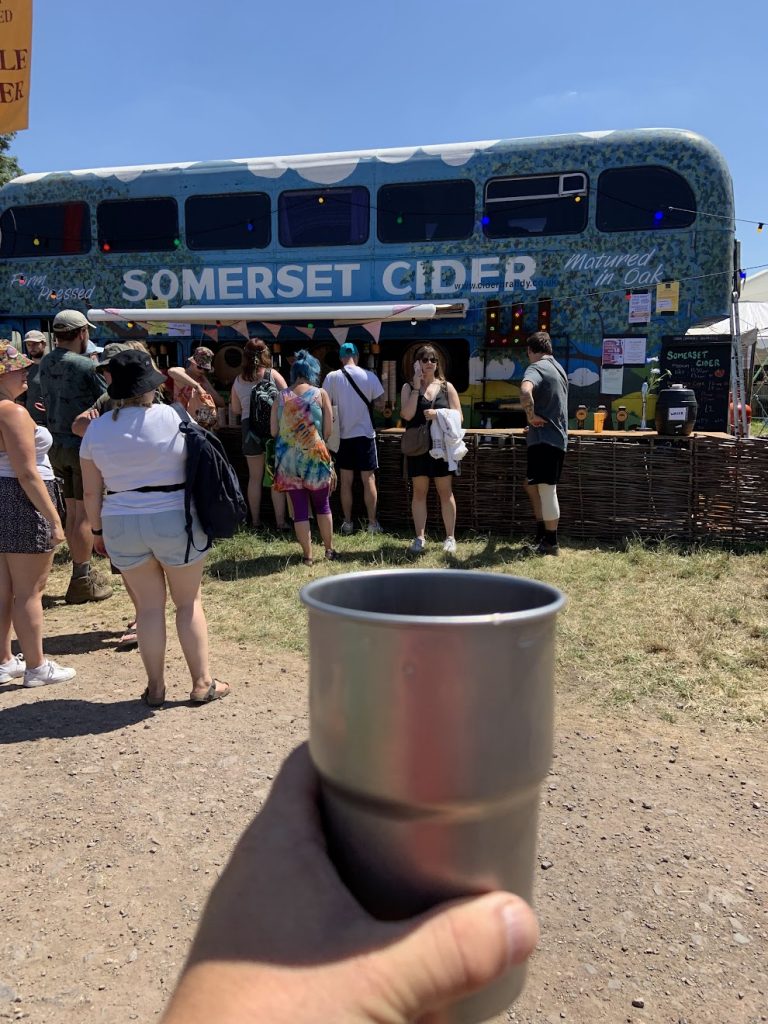 This is normally our first port of call once we have put our tent up. I have chosen both The Village Inn and Cider Bus because they are located next to each other and not everyone likes Scrumpy Cider. The Cider Bus has been coming to the festival since 1970 in some shape or form.
Location: To the left of The Pyramid Stage if you are facing it and just below The Kidney Mead camping area.
San Remo
Last year we camped in a different area so San Remo was the closest bar to our tent. We pitched up and met our friends there throughout Wednesday afternoon. In typical Glastonbury style, we soon made new friends too. Normally, we take it easy on Wednesday but last year we all went a bit mad. Maybe it was because of not having Glastonbury for 3 years. San Remo was a perfect way to get the party started.
Location: To the right of The Pyramid Stage if you are facing it. Between The Pyramid and Woodsies Stage.
The Brothers Bar
I have always loved Brothers Cider. It is great to see them as the official cider of Glastonbury. They actually began at the festival and are located locally. They offer a range of ciders on tap and the atmosphere is always pumping. You can normally find me here at some point during the festival too.
Location: West Holts Stage.
Bimble Inn
The Bimble Inn is a great place to rest your weary legs and believe me they will be weary. They serve good cocktails here as well as ales and other drinks. The venue is a mobile solar-powered venue so if you want a bit of Glasto at your own event you can hire it. They have live music here too.
Location: The Park Area
The Cornish Arms
I vaguely remember being in this bar at Glasto 2022 but it is a bit hazy. The Cornish Arms serve up real ales, rum cocktails and espresso martinis. They have a selection of DJs playing throughout the day and there is seating inside. A lot of people head here on Sunday night once the main stages have closed.
Location: Near The Left Field Stage.
The Spike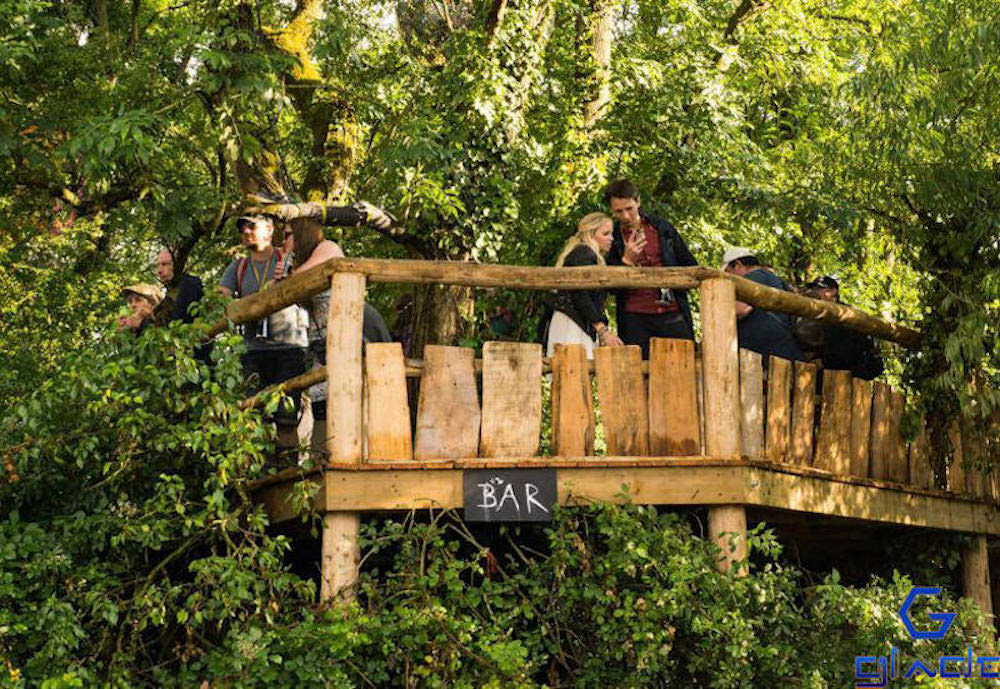 This is one of Glastonbury's hidden gems. Located along the rail track near The Glade area, The Spike is a treehouse-like structure with multiple levels. Grab a drink and watch the world go by as you cool off up in the trees.
Location: The Glade Area.
The Meeting Place
Let's meet at The Meeting Place. Which one? There is only one. The Meeting Place always has a tropical vibe to it no matter what the Glasto weather is like. It is probably to do with the excellent DJs they have. So why not grab a cocktail and go with the flow?
Location: William's Green
The Rabbit Hole
"Well! I've often seen a cat without a grin," thought Alice; "but a grin without a cat! It's the most curious thing I ever saw in all my life!" There are two Rabbit Holes. Find the secret one and enter a world that is all a bit surreal even for Glastonbury. I have been in it, trust me.
Location: Somewhere in The Park Area.
The Bar On The Green
The Bar On The Green is another Glasto bar I frequent a lot. There is a theme developing here! I always seem to get served quick here so maybe that is why I keep coming back. There are places to sit inside and outside which is handy if it is wet.
Location: William's Green
The Underground Piano Bar
The ultimate secret bar. I have only found it once and was lucky enough to be there when Michael Eavis popped in for a sing-a-long. I don't remember what I drank here apart from the Irish firewater outside. You can read about my experience and tips on how to find it here: The Underground Piano Bar.
Location: Somewhere at Glastonbury Festival.
The Rum Shack
I love Glastonbury. I love rum. I love the Rum Shack. This is a bar/stage/area. Located in The Common the Rum Shack is an after-hours venue with an eclectic mix. Artists like Mike Skinner and Kae Tempest have performed secret gigs here so can an eye out for gaps in the line-up.
Location: The Common.
Strummerville
Live music, check. Booze, check. Sofas, check. Campfire, check. This is why I love Strummerville. Also, it was created by Joe Strummer so yet another reason to love this place. Oh, and it is located at one of the highest points in Glastonbury giving you lovely vistas of the festival below. It is the perfect place to chill out and shoot the breeze with fellow Glastonions.
Location: Above the Tipi Village.
---
Do you have a favourite bar at Glasto? Let us know which one it is in the comments or on social media and we will add it to this list.