Glastonbury 2023 I know, I know, one Glastonbury ends and you start thinking about the next one. This is how Glasto works. I bet as soon as the last act plays on Sunday night you will be planning on returning to Worthy Farm the following year.
After attending my first Glastonbury I vowed that I would come to everyone if I was in England (I travel a lot). I am happy to say that I have somehow managed to keep that vow. I am not the only one who has this vow. After Metallica headlined in 2014, Lars Ulrich did the same vow. He has been to every Glastonbury since.
Will There Be A Glasto 2023?
Yes, after the forced cancellation of Glasto 2020 & 2021, the organisers have already confirmed that Glastonbury will go ahead in 2023. Phew, I wouldn't be able to handle another fallow year!
Confirmed Glastonbury 2023 Headliners
Arctic Monkeys – Friday Night Headliner
Guns N Roses – Saturday Night Headliner
Elton John – Sunday Night Headliner
Yusuf/Cat Stevens and Blondie – Sunday Afternoon Legends Slot
Glastonbury 2023 Line-Up
Glasto 2023 Rumours
Here are some of the Glastonbury 2023 rumours so far:
Beans on Toast
Ben Osbourne
Billy Bragg
Bushwacka
Craig Charles' Funk and Soul Club
Das Brass
David Kovics
Easy Life,
Eliza Rose
Far From Saints
Fisherman's Friends
Fulu Miziki
Fun Lovin" Criminals
Funke and The Two-Tone Bay
Gabrielle Aplin
Gweno
George Ezra
Hard-Fi
Hardwicke Circus
Harry Styles
Headmix Collective
Hozier
Inka
Jack Johnson
Jacob Collier
John Lewis
Jon Kenzie
Kangaroo Moon
Kasai Masai
Katy J Pearson
Kid Hyena
Kiss
Kodaline
Kraftwerk
Luke Unabomber
Madness
Malibu Hot Flush
Martin Stephenson and The Daintees
Melanie C
Mik Artistik
Optimo
Papaphone
Paramore
Pauline Scanlon
Piratitude
Pulp
Red Hot Chilli Peppers
Ren
Rhythm Of The '90s
River Roots
Rodney Branigan
Roni Size
Shame
Special Request
Spice Girls
Subfocus
The 1975
The Autumn Saints
The Big Moon
The Black Keys
The Chemical Brothers
The Comet Is Coming
The Delta Sound
The Entitled Sons
The Saw Doctors
The Scribes
The Velvet Hands
Thrill Collins
Tibasko
Tom Rasmussen
Toyah
Will Varley
Glastonbury Tickets
As usual tickets for Glastonbury were available for registered people in November (normally it is October). Tickets sold out in one hour.
If you haven't registered for a Glastonbury Ticket you can do here: https://glastonbury.seetickets.com/registration
They only go on sale at See Tickets so don't fall for any other websites claiming they have Glastonbury tickets.
Check out our Glastonbury Tickets page for information and tips on how to get Glastonbury tickets.
Glastonbury Resale Ticket Information:
Glastonbury Ticket Resale information:
20th April – 18:00 BST – Ticket and Coach Resale
23rd April – 09:00 BST – General Resale
27th April – 12:00 BST – Accommodation
For more information click here: https://www.glastonburyfestivals.co.uk/2023-ticket-resale-faq/
How much does it cost to get into Glastonbury?
The tickets cost £335 and £5 booking fee for Glasto 2023. At first, glance that looks like a lot of money. When you consider the cost to see one of the headliners on their own tour is around £100, it doesn't seem too bad. With over 100 stages and 3,000 performances, £335 isn't bad at all.
Glastonbury 2023 Dates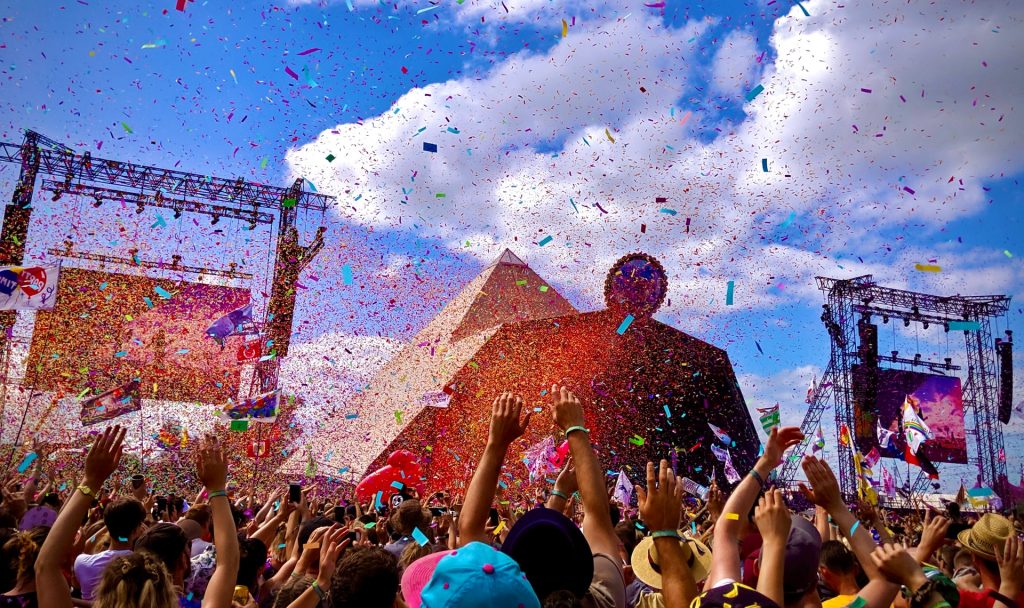 Glastonbury 2023 will run from the 21st of June until the 25th of June 2023.
Do you have to camp at Glastonbury?
No, not at all. Although, I recommend it. Most people do camp. Being cut off from the outside world for 5 days is one of my favourite things about Glastonbury. However, you can come in camper vans and caravans. Or, you can stay off-site in hotels, B&B or Airbnb. Or you can choose one of the many Glamping sites around Glastonbury.